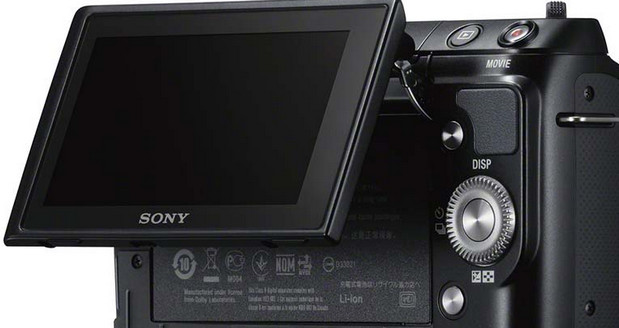 Sony have announced their latest entry-level compact system camera, the Sony NEX-F3 , which packs in a 16.1 megapixel APS-C size image sensor and a natty folding screen.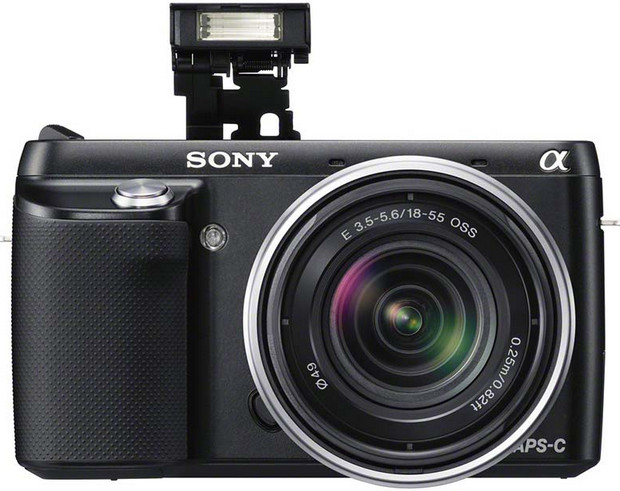 The slimline snapper sports a 3-inch 921k dot 180° tiltable LCD for grabbing self-portraits, backed by an Auto Portrait Framing function, plus full HD AVCHD (50i/25p) video and built-in flash.
The ISO sensitivity has a wide range of 200-16000 and the camera can fire off photos in continuous burst mode at up to 5.5 frames per second.
Sony say the NEX-F3 will keep on shooting for 470 shots before  needing a recharge and the camera will come bundled with an 18-55mm single lens.
Sony have also announced a new Sony 18-200mm F3.5-6.3 OSS LE lens serving up a very useful 11x zoom range.
The Sony NEX-F3 will be available from June 2012 for around £530 / $600.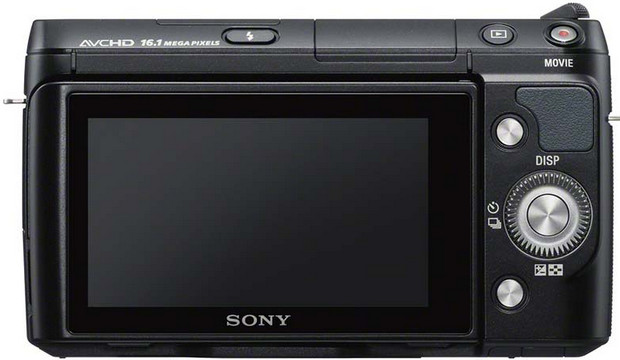 Here's the Sony UK Press Release
DSLR-quality images made easy with new, lightweight compact NEX-F3 camera from Sony
• APS-C size image sensor with 16.1 effective megapixels
• 180° tiltable LCD for easy self-portraits
• Built-in flash, helpful in low-light conditions
• Auto Portrait Framing for easy, top-quality portraits
• AVCHD (50i/25p) ensures smooth, high quality video
• Clear Image Zoom doubles effective focal length while maintaining full pixel count
• Great results made easy with Superior Auto mode
• Long 470 shot battery life and easy USB charging

Have fun exploring the creative world of high-quality imaging with interchangeable lenses. If you're looking for DSLR-style results with less to carry, the NEX-F3 compact system camera from Sony makes 'big-camera' picture quality refreshingly accessible.

The pocket-sized NEX-F3 features the same space-saving mirrorless design as other cameras in the α E-mount family. Far bigger than the sensors found in point-and-shoot compacts, the 16.1 effective megapixel Exmor™ APS HD CMOS sensor captures more light for flawless, low-noise stills and crisply detailed Full HD video (50i/25p). Just like traditional DSLR cameras, it's easy to create beautiful defocus effects with your subject focused sharply against a smoothly blurred background.

Self-portraits are simple too; just hold the camera at arm's length and flip the LCD 180° to see yourself clearly. Then press the shutter button, or let Smile Shutter take the picture for you automatically.

Shooting options in dim light or indoors are enhanced with the addition of a useful built-in flash. As introduced on the acclaimed NEX-7, this handy pop-up flash lets you brighten up shots without the need to carry an additional flash accessory.

The NEX-F3 helps inexperienced photographers effortlessly craft top-quality portraits. Auto Portrait Framing identifies your subject's position, trimming the scene to create beautifully composed, high-resolution portrait photos.

Getting close to your subject used to mean packing a more powerful lens, but now you can enjoy high-quality close-ups with Clear Image Zoom, which doubles effective magnification of your lens. Unique to Sony, By Pixel Super Resolution Technology maintains superb image detail, tones and textures. Ideal for travel and everyday shooting, it's a great way to boost your maximum focal length without carrying extra hardware.

If you're new to digital photography the NEX-F3 takes the guesswork out of choosing from the generous range of functions on offer. Superior Auto mode intelligently recognises a wide range of scenes and subjects, adjusting settings with the skill of a seasoned photographer.

The camera's premium feel is enhanced by a high-quality handgrip for positive, comfortable handling, which, along with its array of features, makes the NEX-F3 a must-have for photographers stepping up from their point-and-shoot compact.

Battery stamina has also been boosted to 470 shots from a single charge – an 18% (approx.) improvement on the NEX-C3. Easy charging via USB simplifies battery top-ups when you're travelling.

SEL18200LE E18-200mm F3.5-6.3 telephoto zoom lens
An ideal travel partner for the NEX-F3, the new SEL18200LE E18-200mm F3.5-6.3 OSS LE offers a powerful 11x zoom range and superb resolution in an easy-to-carry lens. Smaller and 12% lighter than the SEL18200, the new E-mount lens features Optical SteadyShot to compensate for the effects of hand-shake. Direct Manual Focus gives precise control over touching-up focus for fine creative control over beautiful images.

The super-soft LCS-EMH carry case gives quick access to the camera and attached lens; while the LCS-EJC3 carry case fully protects the camera and lens.

The new NEX-F3 compact system camera from Sony is available in the UK from June 2012.

[Via]