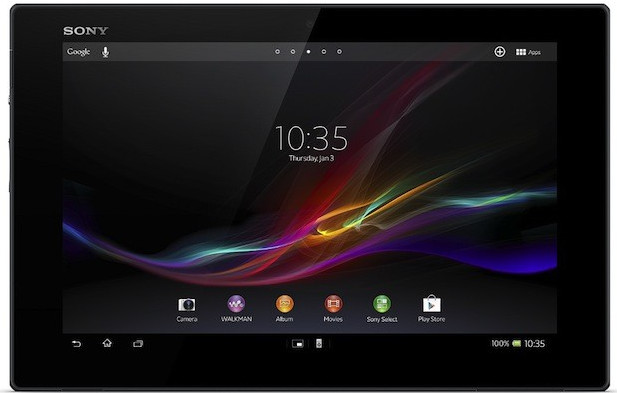 We enjoyed taking the Sony Xperia Z smartphone for a bath last week, and now its companion tablet, the 6.9mm thin Xperia Tablet Z has been released, offering the same water-resisting capabilities.
The super-thin Android slate comes in 16GB, 32GB and 64GB versions with up to 64GB of microSD expansion, and runs Android 4.1.2 Jelly Bean.
The quad-core 1.5GHz Snapdragon S4 Pro CPU makes this a powerful beast, with the 10.1″ tablet – billed as the slimmest in the world – supporting  a resolution of 1,920 x 1,200 pixels.
Other specs for this PlayStation Certified tablet include an 8.1MP rear camera and 2MP front-facing cam, 2 GB RAM, a 6,000mAh battery, NFC, and four speakers.
Pricing for this premium model has been set at £499 for the 16GB model and $599 for the 32GB model. The 64GB Xperia is set to be a US-only wi-fi number.
Sony are yet to announce international release dates.
PRESS RELEASE
Sony's New Xperia™ Tablet Z Packs Powerful Specifications into a Slim and Sleek Design

The Premium Android™-powered device features the best of Sony technology, entertainment, design and connectivity in the world's thinnest 10.1″ tablet

SAN DIEGO, February 25, 2013 (12:00 AM PST) – At Mobile World Congress, Sony announced today the launch of the Xperia Tablet Z, a premium 10.1″ Android tablet that is also the world's thinnest.* The new device joins Sony's flagship smartphone, the Xperia Z, in offering consumers premium specifications with the best of Sony technology, entertainment, design and connectivity.

Premium Tablet Design

Xperia Tablet Z is the most premium, high performance 10.1″ Android tablet available. Built from quality materials and featuring the same stunning OmniBalance design as the Xperia Z smartphone, Xperia Tablet Z is also the slimmest 10.1″ tablet in the world at 6.9 mm* and lightweight at 495 grams. It is the first tablet to run on the Qualcomm® Snapdragon™ S4 Pro asynchronous quad core processor and has the highest levels of water resistance (IP55 & IP57) ever seen in a tablet, making it immersible in up to three feet of water for up to 30 minutes.

"Xperia Tablet Z sets new standards in entertainment by matching premium specifications and Sony technology with cross-device connectivity and a consistent user-experience," said Kaz Tajima, corporate vice president, head of UX creative design and planning, at Sony Mobile Communications. "Xperia Tablet Z reinforces our intention to be a leading player in the premium Android device market, by building on the principles established by Xperia Z and perfectly optimizing them for the tablet form factor."

Integrated Sony Technology

Xperia Tablet Z includes the very best of Sony technology. With a 10.1″ full-HD Reality Display, powered by Mobile BRAVIA® Engine 2, it delivers enhanced color reproduction for a brilliant TV-like viewing experience. By offering the widest spectrum of color on any tablet, the Xperia Tablet Z provides a vivid, life-like display. It also draws upon Sony's camera expertise with an 8MP HD rear camera featuring the Exmor® R for Mobile image sensor and a 2 MP HD front-facing camera for capturing the best images in any condition, including low light. Sony's S-Force Front Surround 3D provides superior audio performance while Sony's Clear Audio+ mode and the innovative use of two built-in speakers with four 'speaker halls' on the left and right corners help the tablet deliver amazing sound no matter how it is held. Xperia Tablet Z also includes Battery STAMINA mode, Sony's unique battery management technology that can improve standby time. The Xperia Tablet Z also offers a microSD card slot for up to 64GB of expandable storage.

Seamless One-touch Connectivity

Xperia Tablet Z is available in a WiFi version in the US and includes more connectivity options than any other tablet, placing it at the heart of the connected home experience. It includes Sony's Near Field Communication (NFC) One-Touch functions which allow users to transfer content among compatible devices, including audio, video and images, seamlessly from tablet to TV, tablet to speaker or phone to tablet just by touching them together. One-Touch functions are a key component of Sony's device range this year and no other consumer electronics company today is bringing as many NFC-enabled products to market. The tablet's Universal IR Remote allows users to control their TV and other Sony devices – as well as products from other manufacturers – directly from the tablet. Additionally, TV SideView is a new application, available from the Google Play store, that gives users an entirely new way to interact with the TV: Discover content via the interactive and visual TV guide, change channels, share with your social networks and cross-search other TV application listings like Netflix®, Video Unlimited™ and YouTube™ in your home network for additional content.

"The living room continues to be the number one location for tablet usage in the US. Consumers are using their tablet as a second-screen companion while watching TV, which is why we packed the Xperia Tablet Z with more connectivity options than any other tablet on the market," said Phil Lubell, vice president of networked technologies and services at Sony Electronics. "The Xperia Tablet Z makes it easier than ever to connect, share and discover content across all your devices in the home."

Sony's Media Applications

Sony's signature media applications – Walkman®, Movies and Album – allow users to enjoy, control and view content. The Sony Entertainment Network ecosystem is also integrated into the application experience and includes Music Unlimited™ which provides subscribers with access to 18 million songs and Facebook® social integration, Video Unlimited™ with access to over 100,000 movies and TV series and PlayStation® Mobile.

Xperia Tablet Z Accessories

Xperia Tablet Z will launch with a number of accessories including a Cradle, an LCD Screen Protector and a Leather Carrying Cover that comes in Black, White or Red. These will be available from Sony stores and registered retailers.

Xperia Tablet Z will launch on Android 4.1 (Jelly Bean) and is upgradable to 4.2 after launch for the latest Android user experience.

Key features for Xperia Tablet Z

10.1-inch Full HD 1920 x 1200p Reality Display with Mobile BRAVIA Engine 2
The world's thinnest 10.1-inch tablet at 6.9mm and lightweight at 495 grams
Dust and water resistant (IP55 & IP57) with a durable glass front display
Built-in universal IR remote control can control Sony and other manufacturers' consumer electronic devices
Snapdragon S4 Pro processor with 1.5 GHz asynchronous quad-core CPU and 2 GB RAM
One-Touch connectivity with Near Field Communication (NFC)
A unique OmniBalance design with subtly rounded edges and smooth reflective surfaces
8 MP rear camera featuring Exmor R for Mobile and Superior Auto plus 2MP HD front camera
Battery STAMINA mode further improves the standby time
S-Force Front Surround 3D provides realistic surround sound using two speakers
Availability and Pricing

The Xperia Tablet Z is available in black in a 16 GB and 32 GB version and will be sold at Sony Stores, including online, and other authorized dealers nationwide for about $499 and $599 respectively this Spring. A white 32 GB version will be available exclusively at Sony Stores, including online.