For years on end, SplashID has been our password manager of choice, offering a simple, secure way of managing hundreds of passwords and personal details, both on our handheld and desktop.
As well as being a handy way of keeping track of log-ins, bank details and the like, the program has proved a great travelling companion, with its advanced Blowfish encryption and password protection giving us peace of mind even if some ne'er do well nabbed our laptop or smartphone.
In fact, we've used Splash ID with every Palm and WM handheld we've ever owned, and looked forward to enjoying the same kind of simple syncing and data management on the iPhone.
Installing

Back in the Palm days, you were able to buy the desktop and phone components in one go, but for the iPhone you need to buy the app from the AppStore  (£5.99) and then download the Splash desktop component (PC/Mac)  from their website for an additional £13 – so it's quite a pricey proposition.
You then need to have the SplashID app open on your iPhone before installing the desktop app, which walks you through setting up the Wi-Fi sync – this involved typing in an IP address, whch was an unpleasant first for an iPhone app.
For the review, we installed both parts of SplashID on a new Windows 7 machine and an iPhone 3G3.
A bright start
At the first time of asking things looked good: SplashID  managed to perfectly sync everything between the phone and the handheld – but that turned out to be the first and last time.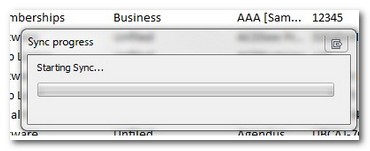 Despite not a single setting being changed, all subsequent attempts led to a 'Connection Refused' error on the iPhone and the desktop getting stuck with a "starting sync" window taking up permanent residence on the screen.
The only way to then get rid of the thing was to employ the time honoured CTRL-ALT-DEL Vulcan handgrip and force-close the program via the Task Manager.
Yes, there really is no 'cancel sync' option on the desktop.
Help forums ahoy
We headed off to the SplashID support forums to learn that we weren't alone: a host of other users had suffered the same problems and for many of them the situation remained unresolved leaving them very unhappy bunnies indeed.
We tried every suggestion we could find. Uninstall. Reinstall. Turn off the firewall. Turn off the anti-virus. Add the program to the firewall exceptions list.  Turn off Bluetooth. Restart. Shout at the bloody computer. Howl at the Moon. Do a little jig. Nothing worked.
After nearly two hours of fiddling about, we were still no closer to getting anything to sync, so we threw in the towel and joined the unhappy warren.
(Actually, there was one option left for us to try, and that involved in faffing about with an ad hoc Wi-Fi network, but by this time we'd really had enough. No app is worth this amount of hassle.)
No refund, no love
To rub salt in the wound, SplashID's own support site informs dissatisfied users that they can take a running  jump if they want a refund on their non functioning iPhone app:
How can I obtain a refund for my purchase on the App Store?

Since we do not manage the App Store, we cannot process refunds for it. Apple's policy is that all sales are final, but you can contact them if you are truly dissatisfied here:
Conclusion
Things simply shouldn't be this hard for a modern app running on a modern phone and operating system.
In fairness, Apple's pigheaded stubborn refusal to let any third party sync via USB is no doubt at the core of much of this, but if SplashID are going to try and profit from this program, then they should either make it far easier to fix these problems or take it off the shelf until they are fully fixed.
Consumers shouldn't be expected to battle through nine page 'support' threads of often baffling techie-ness trying to work out what the hell is going on with their paid-for products.
We've now wasted so much time trying to get the program to work that we wish there was a way to inflict pain on it. Or at least get our money back.
SplashID used to be a five star product, but we can't recommend it to anyone at the moment, and that's a real shame because for many years it was a truly essential app.
Ratings

– Interface


– Ease of use


– Value for money


– Overall
*We'll forward this article to Splash ID for comment, but seeing as they've steadfastly ignored our requests for a review copy in the past, we're none too hopeful of a reply.