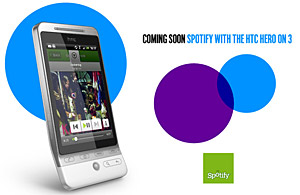 After a bout of synergistic backslapping, Spotify and the mobile network 3 have announced a deal to bundle subscriptions to the music streaming service with the HTC Hero handset.
From November 2009, 3 will be offering the HTC Hero with a two year Spotify Premium account, giving customers unlimited access to the service on their phone, leaving them free to gorge on 3,333 tracks downloaded to the phone every month.
It's a lengthy two year contract, which involves users shelling £99 up front, and then depositing £35 in the network's coffers every month, in return for unlimited texts, internet, Skype calls and 750 minutes.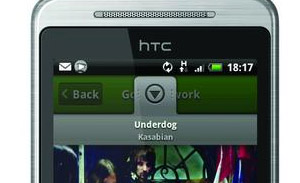 Charlotte Blanchard, Director of Products & Services at 3 says "As a first step we've built this service into an attractive, well-priced package with the HTC Hero. Over time our deal with Spotify will extend across a range of our products including mobile broadband."
Faisal Galaria, Global Head of Business Development at Spotify was both excited and thrilled, and jolly well told us so: "This is a very exciting deal for Spotify. We're intent on offering people a high quality, simple yet powerful portable music experience at a fair price and we're thrilled to be working with 3 to bring Spotify to UK music fans".