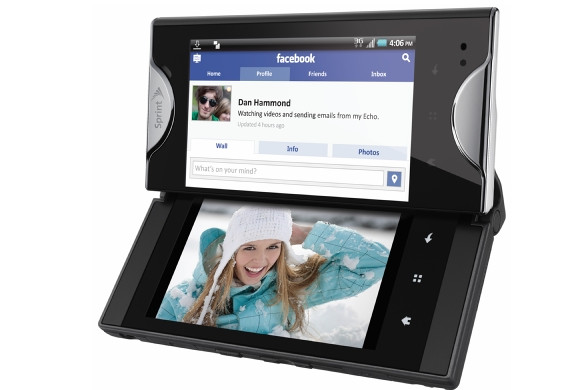 It's a a bit of a crazy looking thing, but the dual screen Sprint Kyocera Echo may prove to be an unexpected hit – or a laughable flop.
Double screen joy
The Android Froyo 2.2 powered device comes with no less than two 3.5-inch LCD WVGA (800 x 480 pixels) capacitive touchscreens, with the second display opening up via a novel 'LiquidMetal' hinge design.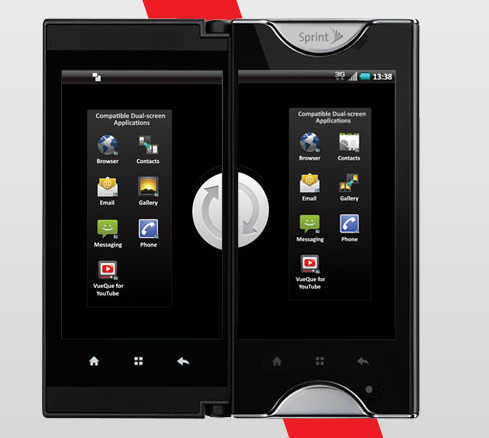 Tech site TBG managed to get their hands on a Kyocera Echo and they waxed lyrical about the joys of a two screen set up:
The ability to run full apps simultaneous in Simul-task mode, changes the way you multitask. Having the web browser open on the top display while you're watching a video or browsing photos on the lower display is such a natural action for those of us that are on the move and multitask in our everyday lives (for better or worse).

Being able to compose an email while having Google Maps open or even having two browser windows open at the same time can literally change the way you work. That's not all two displays are good for, though. In apps like email for instance, you can use one display to navigate and select a specific email message and the other display to read it, much like a tablet email app — it's really useful.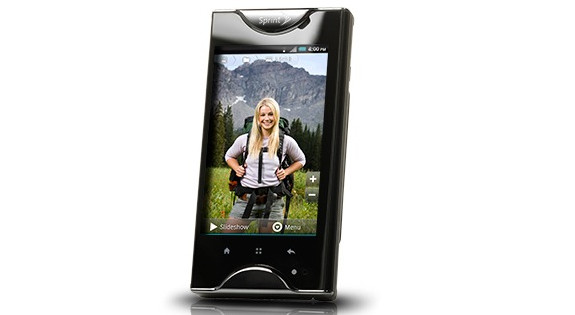 Smooth specs, bit of a duff design
The hinge design was also praised for its toughness and described as being "incredibly solid and well designed," although the Echo lost points for being a bit of a chunky fellow and none too easy on the eyes.
Although the twin screens look like they're running apps simultaneously, in fact it's speedily witching them in and out of hibernation, even though they're both displayed on screen – so you won't be able to watch a video while writing an email.
Back to the specs, there's Bluetooth 2.1 + EDR, Wi-Fi and EVDO Rev. A on board, with Kyocera saying that the battery life should match the current breed of smartphones.
Powered by a 1GHz Snapdragon QSD 8650 CPU, there's also a 5 megapixel camera with flash on the back, with the whole package measuring up at a rather portly 115.0 x 56.5 x 17.2mm and weighing 193 grams (6.8 oz.).
The handset should be available on the Sprint network in the US for $199 on a two year deal.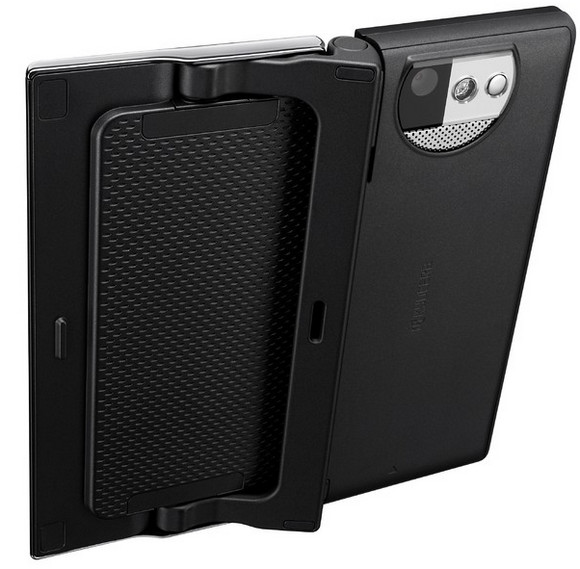 A curious number
We're not sure what to make of this thing – we can see how two screens could prove incredibly productive but we're not sure that  folks will be falling over themselves to pick up a package as big and as average looking this one.
That said, we're still mighty intrigued by the idea of two screens gadgets because it reminds us of the long lost and sadly missed Microsoft Courier project – something that we haven't stopped moaning about since it was cruelly cancelled!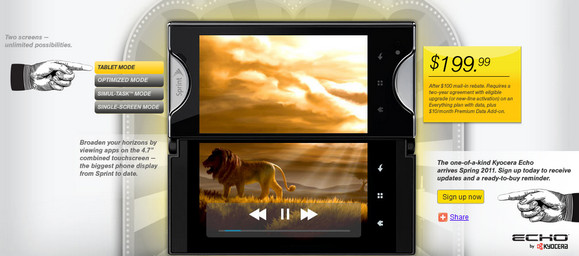 Specs and features
Here's how Kyocera big up the new phone's features:
Dual-Touchscreens
Two high-resolution 3.5-inch WVGA displays connected by a revolutionary pivot hinge that allows them to operate independently or together as a single large display.

4-in-1 Versatility
Single-Screen Mode – a fully functional single-display experience.
Simul-Task™ Mode – choose 2 of the Echo's 7 core apps and run one on each display simultaneously.
Optimized Mode – optimized apps let the dual displays complement each other, like email on one and a full virtual keypad on the other.
Tablet Mode – dual displays act as a single oversized (4.7 inches diagonally, 800 x 960 pixels) display ideal for multimedia.

Customized Apps for Echo™
Applications specifically developed for Echo's dual screen and larger real estate give optimum viewing quality.*

Camera & Camcorder
Echo offers a 5 megapixel camera with flash and digital zoom, and a 720p HD video camcorder.

Android 2.2 with Hotspot Capability
Wi-Fi b/g with hotspot capability supporting up to 5 devices.*

Other Features
Android 2.2 with access to more than 100,000 apps on Android Market™
3G data speeds (EVDO Rev A.) with peak download speeds of 3.1 mbps; peak upload speeds of 1.8 Mbps: average download speeds between 600 kbps and 1.4 Mbps
Expandable memory; 8GB microSD™ card included; supports cards up to 32GB
Full HTML Web browser supporting Flash 10.1, optimized for dual screens
Corporate (Exchange ActiveSync) and personal (POP & IMAP) email
Access to Telenav GPS Navigator, Sprint TV® and more
Media player with 3.5 mm headset jack
1GHz Snapdragon processor
Bluetooth® 2.1 + EDR
Digital compass, accelerometer, proximity sensor, light sensor, GPS
Hearing Aid Compatibility Rating (HAC): M4/T4
Press release:
NEW YORK – Feb. 7, 2011 – Sprint (NYSE: S) and Kyocera Communications Inc. today announced the first dual-touchscreen Android™ smartphone, Kyocera Echo™, exclusively from Sprint. This Android-powered device features two high-resolution 3.5-inch WVGA touchscreen displays connected by a patent-pending "pivot hinge" that enables the two displays to operate independently, side-by-side or combined to form an oversized 4.7-inch (diagonally) integrated display.

Until now, a single screen on a smartphone could only be used to complete one task at a time, even with limited multitasking capabilities available on some smartphones. Kyocera Echo's second screen provides the ability to do two things at the same time and get more done – send an email on one screen while surfing the web on the other, watch a video on one screen while texting on the other, comparison shop online with one web site on each screen and so much more.

Images and video of Kyocera Echo's dynamic design in action are available now at www.echobykyocera.com. Pre-registration begins today at www.sprint.com/echo.

In its closed position, Kyocera Echo is a pocket-friendly, single-display smartphone. When opened, Kyocera Echo reveals a revolutionary new platform for wireless multitasking and gives customers a new level of versatility in Android. Its innovative hardware and optimized software enables consumers to use the touchscreens in four unique ways:
• Single-Screen Mode with all the functionality of a single-display, touch-screen smartphone.
• Simul-Task™ Mode with two of the phone's seven core apps (messaging, e-mail, Web browsing, phone, gallery, contacts and VueQue™) running concurrently but independently on the dual displays – e.g., reading e-mail on one screen and opening a text message on the other; checking Facebook® via the browser on one screen while looking through a photo gallery on the other; or even searching the Web on one screen and checking email on the other.
• Optimized Mode with both displays supporting a single, optimized app with complementary functionality and enhanced usability – e.g., composing e-mail on one screen with a touchscreen keyboard on the other; watching a YouTube™ video on one display while browsing and queuing additional YouTube videos on the other (with a preloaded Kyocera app called VueQue™); or viewing gallery images on one display while browsing image thumbnails on the other.
• Tablet Mode with one application spread across both displays for a full 4.7-inch viewing area. Tablet Mode is ideal for viewing maps, videos, websites, detailed documents, and long lists on-the-go.
"Sprint is proud to boast the most powerful Android portfolio available today and Echo adds to that legacy with industry-leading technology that will change the way our customers use smartphones," said Sprint CEO Dan Hesse. "Today's busy schedules often demand that we do at least two things at once. Kyocera Echo is the first device that allows us to do a different task on each of two screens while also providing a tablet-like, larger screen experience that easily fits in a pocket when closed."

Kyocera Echo will be available this spring for $199.99 with a new two-year service agreement or eligible upgrade and after a $100 mail-in rebate in all Sprint retail channels, including the Web (www.sprint.com) and Telesales (1-800-Sprint1). Pricing excludes surcharges and taxes.

"For years Kyocera has provided handsets to Sprint's Prepaid Group and MVNOs, as well as to Sprint under the Sanyo brand," said Eiichi Toriyama, president of Kyocera Communications Inc. "We value greatly our relationship with Sprint and we are thrilled that they have chosen Echo as the standout product with which to reintroduce its customers to the Kyocera brand. With Kyocera Echo, we are proud to give Sprint an iconic, industry-changing device that delivers an entirely new experience for smartphone users."

Kyocera Echo also includes customized apps optimized for the dual-screen Optimized Mode experience including VueQue™, which lets users watch a YouTube video on one display while browsing, queuing and buffering additional YouTube videos on the other display. Additional applications optimized for the dual-screen experience include:
• Messaging and e-mail: Users can turn the device horizontally and use the top display to view the e-mail/message application while using the lower display as a full-sized virtual keyboard.
• Browser: Takes the browser experience of a standard 3.5-inch smartphone and enhances it, allowing users to view two websites simultaneously.
• Gallery: Users can scroll through thumbnail images on one screen while viewing an enlarged image on the other.
• Contacts/phone: Users can view more of the phone's contact directory or an expanded virtual dial pad.

Beyond the dual touchscreen innovation, Kyocera Echo operates on the Android 2.2 system and has access to more than 100,000 apps in Android Market™ – everything from Facebook to Angry Birds. Additional key features include:
• Sprint's nationwide 3G network and Wi-Fi (802.11 b/g)*
• Wi-Fi hotspot capability, which supports wireless connections for up to five devices
• 5-megapixel camera with flash, autofocus and digital zoom
• 720p HD camcorder to quickly capture those on-the-go memorable moments
• Corporate (Exchange ActiveSync®) and personal (POP & IMAP) e-mail, IM (Google Talk™), text messaging
• Media player with a 3.5 mm stereo headset jack
• Stereo Bluetooth® 2.1 (+ EDR)
• Full HTML Web browser with Google Search™
• 1GHz Snapdragon processor (QSD 8650 Android)
• 1 gigabyte (GB) of onboard memory and an 8GB microSD™ card for the external memory card slot supporting cards up to 32GB
• Voice and text prompts in both English and Spanish

Kyocera Echo comes packaged with a spare battery (1370 mAh) and a low-profile charging cradle. Along with charging the spare battery independently of the phone, the charging cradle also can tether the spare to Kyocera Echo as an external power supply.

Additional Google™ features include Google Maps™, Google Talk™, Gmail™, synchronization with Google Calendar™, and access to Google Goggles™ to search with pictures instead of words. With Sprint, Kyocera Echo users have access to Sprint Zone™, providing one-stop wireless account access, phone tips, news, a list of top apps plus TeleNav GPS Navigator, Sprint TV and Movies® and more.

A Software Development Kit (SDK) and developer guide for Kyocera Echo will be available before the launch on the Sprint Application Developer Program (ADP) website at http://developer.sprint.com/android. The developer guide will provide details on developing for a dual-screen handset and Android 2.2 device. It also will provide information on how to take advantage of Kyocera Echo's unique hardware and software capabilities on the Sprint Network. The Sprint ADP has been providing tools for third-party developers since Sprint first launched the Wireless Web on its phones in 2001.

Some competitors may offer lower prices, but Sprint customers get more with unlimited data while on the Sprint Network with their monthly plan. Sprint offers real simplicity, value and savings vs. competitors, making it easy for customers to get the most out of their phones without using a calculator to tally up costs or worrying about how much data they've used.

Kyocera Echo requires activation on one of Sprint's Everything Data plans plus required $10 Premium Data add-on charge for smartphones. Sprint's Everything Data plan with Any Mobile, AnytimeSM includes unlimited Web, texting and calling to and from any mobile in America while on the Sprint network, starting at just $69.99 per month plus required $10 Premium Data add-on charge – a savings of $39.99 per month vs. Verizon's comparable plan with unlimited talk, text and Web, and $35 per month vs. AT&T's comparable plan with unlimited talk, text and just 2GB of data (excluding Verizon's Southern California plan; pricing excludes surcharges and taxes.)

Sprint Everything Data plans qualify for automatic enrollment in the Sprint PremierSM loyalty program1. Existing Sprint customers can switch to an Everything Data plan without extending their service agreement. New lines of service require a two-year service agreement.

An optional charge of just $29.99 per month turns on Kyocera Echo's mobile hotspot feature, connecting up to five Wi-Fi enabled devices, such as laptops, gaming devices and digital cameras, at 3G speeds anywhere on the Sprint 3G network (pricing excludes surcharges and taxes).
More: now.sprint.com and echobykyocera.com