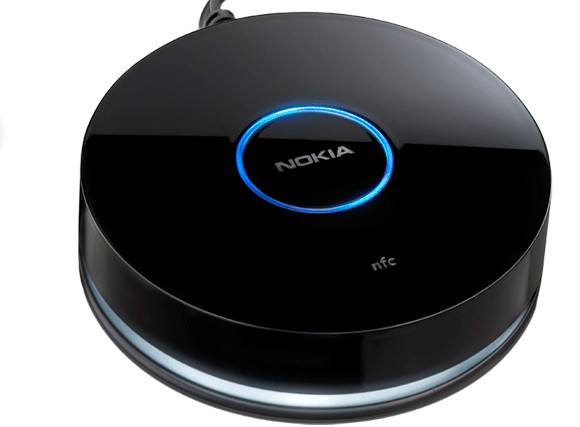 If you're fed up with the puny sound coming from your phone's built-in speaker, or the less than hi-fi noise coming out of  your smartphone dock, it might be time to invest in a wireless music receiver like Nokia's swishy offering.

Through the wonders of Bluetooth, music receivers can wirelessly connect your smartphone with your beefy hi-fi music system, letting you stream and control tunes from your handset.
There's a fair few of these available – the Belkin Bluetooth Music Receiver
 is a popular budget (£20) choice, but we elected to go for the more upmarket Nokia MD-310 receiver, which future-proofs itself to an extent by offering  built-in NFC support.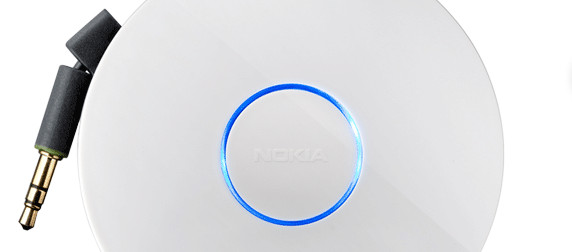 Compatibility
The device is Bluetooth 3.0/Advanced Audio Distribution Profile (A2DP) 1.2 and claims a healthy operating range of 100 metres.
What's in the box?
Tearing open the box, you'll find the circular receiver (which looks like an oversized face powder case), with its 3.5mm stereo jack lead for connecting up to your sound system.
On closer inspection, you'll see that the lead is in fact coiled around the unit, so you can extend the lead by about 60cm (and perhaps even have a go at seeing if it works as a yo-yo).
The case feels substantial and solid, with the only other features being  a recessed hole for the rather cunningly designed lightweight power supply (which has a neat flip earth pin for UK plugs) and a central button for initiating Bluetooth pairing.
Along with the usual annoying multi-language, folded up pamphlet, the only other thing to be found in the box is a jack to twin-phono converter, giving you two gold-plated leads for plugging into your amp.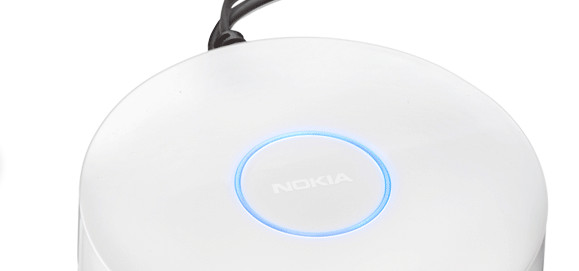 Pairing it up
Once the receiver was connected to our hi-fi, it was just a case of pairing it with the handset (in this case, a Samsung Galaxy S2) by bashing the button on the top and we were ready to go.
During the pairing process, the top button surround changes from white to blue when the connection is made, while a subtle white light underneath adds a pleasing sci-fi touch.
If you've got a NFC-enabled handset, you can pair it to the Nokia MD-310 by slamming it down on the receiver, which, we have to admit, does look rather cool.
It can also remember multiple connections with devices – just press the button at the top and it will scroll through its list and connect to the first one it finds within range.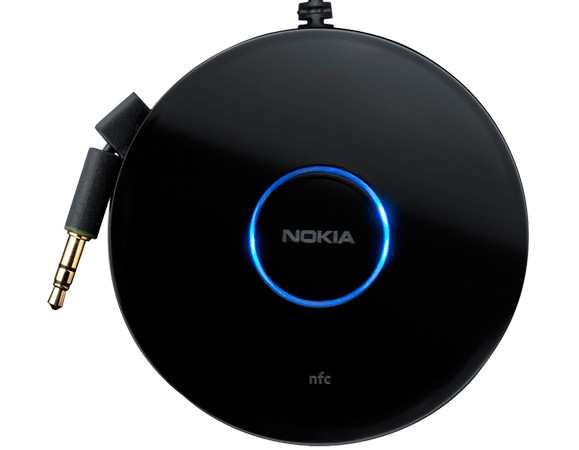 Sound and range
Nokia claim that the sound is "CD quality" and we have to admit we were very pleasantly surprised by what we heard. Songs sounded fully rounded with deep bass and a smooth midrange and top, with no distortion.
The operating range was an even more pleasant surprise.  In the past, we've used Bluetooth peripherals that rapidly start losing the connection as soon as you stroll a few metres away from the receiver.
The Nokia, however, had a fantastic range, managing to smoothly stream music when the handset was on the floor below in a concrete walled building. Very impressive.
It was also fun to play the radio through the the TuneIn Radio app. It didn't sound as good as our high quality MP3 files, but once you get used to controlling the radio and your music files from your phone, hunting around for the hi-fi's remote controller seems a lot less worthwhile.
The verdict
If you've got a decent sound system at home and a phone stuffed full of tunes, then the Nokia MD-310 is a bit of a no-brainer: it's a superb upgrade that's going to let you get the best out of your tunes.
Our hi-fi sounds better than any phone dock we've used, and it was a real revelation being able to control and play  tracks from our phone via our beefy sound system.
It also looks great, performs effortlessly and with the MD-310 being available for £41 (in black and white finishes), we think it's well worth the asking price.
Nokia MD-310 Wireless Music Receiver ratings


 – Build


 – Features


 – Sound Quality


 – Value for money


 – Overall
More info: Scroll down for cheesy promo video, full specs and background video interview.
Specs
Dimensions
Diameter: 76 mm, Height: 22 mm,
Weight 125 g
Operating keys
Bluetooth pairing key
Power and Bluetooth status LED
Connectors
3.5 mm standard audio connector
Power cable
RCA adapter
Operating temperature: -15°C to +55°C
Operating range (maximum): 100 m (Bluetooth use)
Power supply
Powered through the wall socket with Nokia Charger AC-3 (included).
Cables: 3.5 mm audio cable – length 78 cm
Cable management system: built-in spool
Codecs: Supports aptX™ and SBC codecs for high-quality audio streaming.
Connectivity
Bluetooth version: 3.0, Class 1 (long-range operation)
Bluetooth profiles: Advanced Audio Distribution Profile (A2DP) 1.2
Sales Package contents
Nokia Wireless Music Receiver
Quick guide
RCA adapter
Nokia Charger AC-3