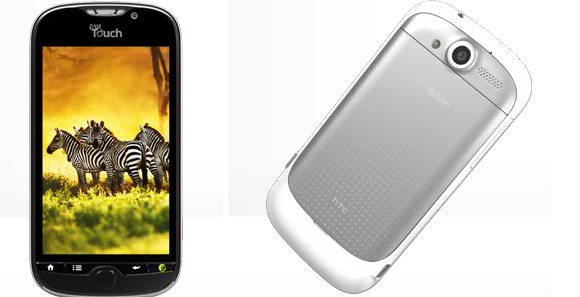 Racing out of the paddock behind the recently launched G2 handset is T-Mobile USA's latest Android handset, the myTouch.
Packing HSPA+ support, the handset runs a 1GHz Snapdraogn processor and comes with a 3.8-inch WVGA touch display and video chat.
There's a 5 megapixel camera on board, plus a 720p HD Camcorder with 'screen share,' with everything purring along on the Android Froyo 2.2 OS platform.
There's also a 8GB pre-installed memory card onboard, with the handset coming in no less than four colors: white, black, plum, and red.
There's no news on pricing yet, but we reckon it's going to hover somewhere around the $199 mark (and probably free on contract), and it's scheduled for a US release "in time for the holidays."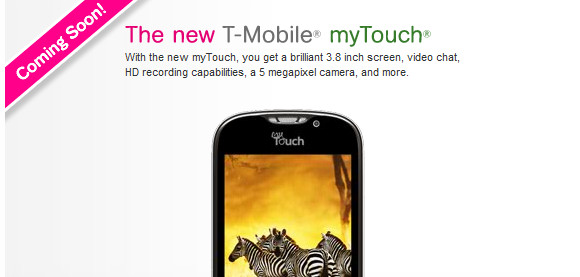 Here's the press release:
New T-Mobile myTouch Delivers High-Definition Video Connections and Lightning Fast 4G Speeds

New myTouch to Take Advantage of T-Mobile's New Super-Fast HSPA+ Network Now Reaching More Than 65 Markets

BELLEVUE, Wash. — October 4, 2010 — T-Mobile USA, Inc. today announced a new addition to its exclusive line of Android™-powered T-Mobile® myTouch® smartphones and the continued expansion of its new super-fast HSPA+ mobile broadband network. Built with families in mind, the newest T-Mobile myTouch helps solve the challenges of staying physically and emotionally connected by sharing photos and video with the HD Camcorder, spontaneous face-to-face conversations through Video Chat and the ability to reach 4G speeds on T-Mobile's new network, which is now available in more cities across the country.1

Unlike other video-calling solutions on the market that only work through Wi-Fi, Video Chat on the new myTouch enables customers to connect with loved ones spontaneously from practically anywhere through T-Mobile's network or Wi-Fi. With the myTouch's front-facing camera paired with Video Chat through Yahoo! Messenger or QIK, customers can hold video conversations with friends and family who have a new T-Mobile myTouch, other compatible mobile device or PC. Customers can even see who is available to chat through presence information integrated into the myTouch's address book, and have the option to leave Video Mail using Qik when someone is unavailable.

"Taking advantage of the 4G speeds on T-Mobile's HSPA+ network, the new myTouch delivers a faster and more compelling experience than most competing smartphones on the market," said Andrew Sherrard, vice president, product management, T-Mobile USA. "Our continued focus to build innovative new features and personalized services truly makes myTouch unique."

Designed specifically to deliver 4G speeds on T-Mobile's rapidly expanding HSPA+ network, the new myTouch will offer customers blazing fast access to websites, applications, videos, downloads and more. T-Mobile's HSPA+ network is the most pervasive mobile broadband network in the country, offering 4G speeds in more than 65 major metropolitan areas.

With its latest expansion, T-Mobile's HSPA+ footprint now includes Biloxi and Gulfport, Miss.; Denver, Colo.; Huntsville, Ala.; Knoxville, Tenn.; Myrtle Beach, S.C.; Norfolk, Va.; Omaha, Neb.; Phoenix and Tucson, Ariz.; Salt Lake City, Utah; San Francisco, San Jose, Oakland and Sacramento, Calif.; and West Palm Beach, Fla. T-Mobile expects to reach 100 major metropolitan areas and 200 million people in 2010.

Families also can share moments in high-definition (HD) with the myTouch's high-quality HD Camcorder with Screen Share, which allows customers to share or broadcast HD video and pictures they've captured. With a few touches of the screen, customers can share their photo albums, videos and movies wirelessly with a compatible HDTV or other DLNA device.

The new phone also includes three exclusive myTouch features: Genius Button™, powered by Dragon Dictation from Nuance, which lets customers call, text, e-mail or access the internet with a simple voice command; Faves Gallery™, which offers shortcuts to one's most-contacted family and friends; and myModes, which creates customized home screens for work and home.

Designed by HTC exclusively for T-Mobile, the new myTouch features a brilliant 3.8-inch WVGA touch-screen display with virtual keyboard and Swype® for easy text input. The thin and sleek device also comes with a blazing fast second-generation Qualcomm® Snapdragon™ 1GHz MSM8255 processor optimized for speed and graphic performance, a 5-megapixel camera, a preinstalled 8 GB microSD memory card, and an integrated media player that brings together favorite music, video and internet radio under one set of controls.

Powered by Android 2.2, the myTouch offers a rich mobile Web experience and access to more than 80,000 applications on Android Market™ from games to location-based social networks to on-the-go shopping and more. The new device also features preloaded HD games, including "Rock Band," "Asphalt 5" and "Monopoly."

The new T-Mobile myTouch is expected to be available in time for the holidays, exclusively from
T-Mobile USA in four colors — white, black, plum or red. Customers can visit http://mytouch.t-mobile.com for more information.

T-Mobile now offers 4G speeds on the new myTouch and the T-Mobile G2™, as well as the webConnect Rocket™ 2.0 and Rocket laptop sticks. In addition, customers located in new HSPA+ locations can benefit from faster speeds on their existing 3G smartphones — including popular devices, such as the myTouch 3G Slide.2