Cheap and cheerful and bright'n'breezy is the new super-cheapo Android tablet from UK supermarket giants Tesco.
Priced at a Nexus 7-undercutting, loose change-attracting £119, the 7-inch Hudl (pronounced "huddle") features a decent enough set of specs given its low, low price.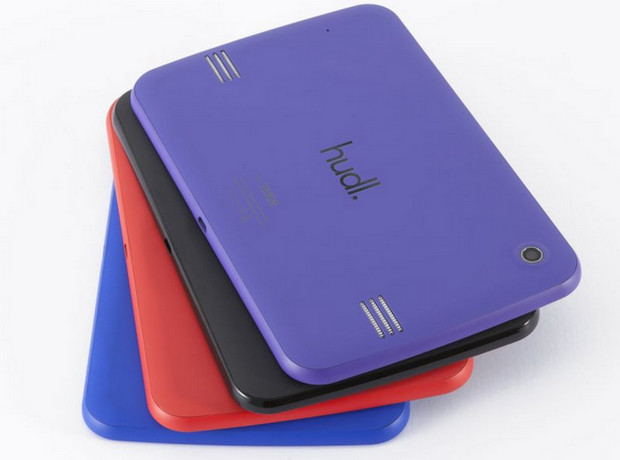 For just under £120, shoppers can bag themselves a tablet sporting a 1,440 x 900-resolution 7-inch screen with 16GB of onboard storage (expandable up to 48GB via microSD),  Bluetooth 4.0 and GPS.
Powered by a reasonably sprightly 1.5GHz quad-core CPU and running 4.2.2 Jelly Bean with the full suite of Google apps, the Huddl also comes with dual-band Wifi and a microHDMI port for TV connectivity.
Tesco are hoping their customers will quickly form a heroin-liker addiction to their own coin-turning entertainment services like their BlinkBox and Clubcard TV platforms.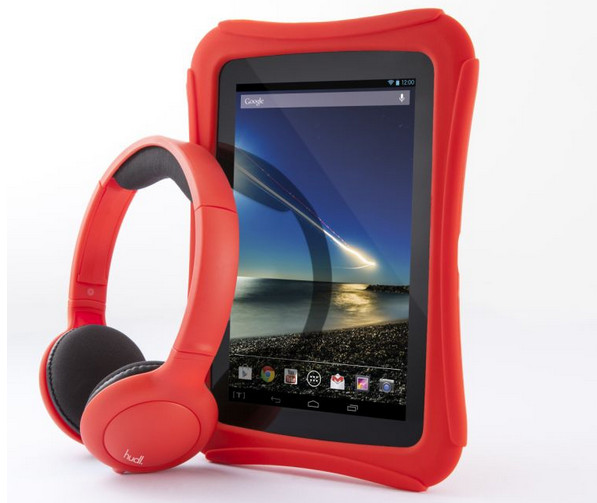 Available in chirpy black, blue, purple and red colour options, the Hudl tablet will be sold via Tesco's online and physical stores for just £119, starting next Monday, Sept. 30th.
Tesco Clubcard holders can potentially save a bomb by buying the tablet through the "Clubcard Boost" scheme which doubles the value of vouchers, meaning that the price may apparently plummet down to just £60 for  loyalty card holders. Or so we're told (we never use them, so have no idea how it all works).
Press release and specs below:
Tesco launches 7in Hudl tablet

Tesco today launches Hudl, a new 7 inch HD tablet that aims to open up a world of entertainment and connectivity to all. It has been designed by Tesco for its 20 million customers and more, focusing on accessibility and convenience.

With super-fast 1.5GHz quad-core processor and dual-band Wi-Fi, users will find Hudl a great companion for their needs, from films, music and TV through to staying in touch, learning new things, shopping and playing games. The scratch-resistant HD display screen is beautifully clear and with 243 pixels per inch, it's perfect for enjoying HD movies in 16:9 widescreen. It has up to 9 hour video battery life and 16GB of memory which can be extended to 48GB.

Hudl combines the best of Tesco with the Android Jellybean 4.2.2 operating system meaning that customers can access everything on Google and over a million apps.

Tesco designed and built the tablet from scratch, tailoring it around customer needs and ease of use. Hudl users can enjoy instant access to Tesco's full range of digital services, all in one place, through a convenient, dedicated launcher button. These include blinkbox movies and TV, music and Clubcard TV (which offers free films and TV programmes exclusively for Clubcard holders), banking and of course shopping for groceries, clothing, homeware and more.

Hudl comes in four colours and will be available to buy in store and online (on Tesco.com and Tesco Direct sites) from 30 September and will retail at £119. Hudl is about making Tesco customers' lives easier, so Tesco Clubcard holders will be able to buy it at an even better price. Hudl will be available on Clubcard Boost* where customers can double the value of their vouchers, meaning many will be able to buy it for less than £100.

According to OFCOM, three quarters of UK households do not have a tablet. Tesco's research found that many feel that the technology is too expensive or intimidating. So Tesco has entered the market to change that.

Tesco Chief Executive, Philip Clarke, comments, "Hudl is a colourful, accessible tablet for the whole family to enjoy. The first stage in our tablet offering, it's convenient, integrated and easy to use with no compromise on spec. Customers are quite rightly very discerning about the technology they buy so we knew we had to be competitive on all fronts."

"Being online is an increasingly essential part of family life and whilst tablets are on the rise, usage is still quite limited. We feel the time is right for Tesco to help widen tablet ownership and bring the fun, convenience and excitement of tablets to even more customers across the UK. The digital revolution should be for the many, not for the few."

The move is part of Tesco's multichannel strategy, ensuring that customers can shop whenever, however and wherever they want. It recognises the increasingly important role that smart phones and tablets are playing in people's lives and how they can make things easier.

In the digital age, customers are communicating, working, learning, browsing and consuming differently and Tesco, always an innovator, has been transforming its business accordingly. Tesco was first to introduce grocery home shopping and supermarket drive-thrus in the UK and built the world's first virtual store where commuters buy groceries via their mobile phones in South Korea. In its latest multichannel launch, Tesco wants to ensure as many customers as possible can access the benefits of a tablet, in a world that is increasingly online.

Hudl has been designed as a family tablet. When users switch it on for the first time, there is a screen which gives advice on how to put in place measures to protect children (please see details in notes below). There are also a range of Hudl accessories, including child-friendly headphones.

Specification detail:
·         7" 1440 x 900 HD screen
·         Android Jellybean 4.2.2
·         16GB storage which can be expanded to 48GB with microSD cards.
·         Quad-core 1.5GHZ processor
·         9 hours video battery life (Conditions may vary dependent on video format and content, audio volume, screen brightness and processor load)
·         Micro-HDMI port
·         Bluetooth 4.0, GPS
·         Dual band Wi-Fi for a more stable connection
·         Access to over a million apps via Google Play™
·         Comes in 4 colours: black, blue, red, purple
·         Wi-Fi only

·         Sleek, high-quality design, with a durable, matte, soft-touch back for better grip
·         Scratch resistant touch screen
·         'Getting started' app that offers tips and guidance
[Via]