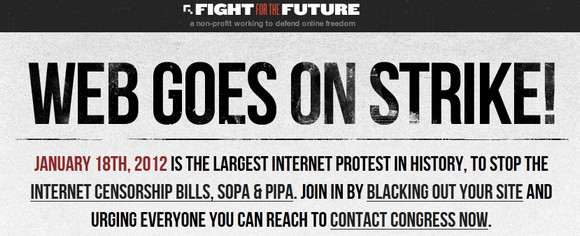 Today (Jan 18th) sees what is being billed as 'the largest internet protest in history' as websites show their opposition against the proposed Stop Online Piracy Act (SOPA) and its sibling the Protect IP Act (PIPA) in the US.
Reddit and Wikipedia are among the many sites, big and small, who have promised to 'go dark' (i.e shut down for the day) to illustrate what might happen if SOPA became law.
Campaigners say that SOPA would make any site that included web links – even if they were submitted by users – practically inoperable and open to take-down orders from the government.
By calling for a 'web blackout,' it's hoped that ordinary folks will be made aware about how the internet may change for the worse if the bills were passed.
Sites confirmed to be 'going dark' today include:
Wikipedia
Mozilla
WordPress.org
Cheezburger Network
MoveOn.org
Good Old Games
TwitPic
Minecraft
Free Press
Mojang
XDA Developers
Destructoid
Good.is
SopaStrike.com offers advice how websites and users can get involved:
Websites: How to Strike
Black out your website for 12 hours with this page's HTML, or by putting this Javascript into your site's theme. Tucows is doing this and so is BoingBoing.
Other people have made tools to strike. Some other ways to strike:
Don't be silent that day. Tweet all day from your official company account (#SOPASTRIKE) and share news on sites like reddit. You will get much love in return from your users, and the bigger the action you do, the more love you will be feeling 🙂 – You can follow us on twitter for news as the strike gets closer. If you are really feeling shy, you can blackout your site logo / add STOP SOPA messages wherever you can.
Everyone: Prepare to Strike
If you have a Twitter account, tweet about the #SOPASTRIKE and ask your followers to get ready. You can follow us on twitter for news as the strike gets closer. Go to Blackout SOPA to add 'STOP SOPA' to your Twitter image.
Post this SOPA Strike page to your Facebook account by clicking here.
Get ready for January 18th! Email and tweet at your friends, tell them to tell everyone about the strike. When the day comes, call Congress, tweet like crazy (#SOPASTRIKE), and help the strike appear everywhere!
More info: [SopaStrike.com]