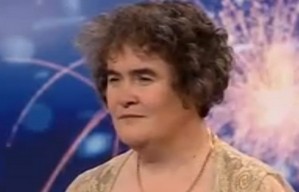 YouTube has released details of the most popular videos on their site for 2009, and topping the list is 'Britain's Got Talent' runner-up Susan Boyle.
The unlikely chart-topper's rendition of 'I Dreamed a Dream' has now been watched by an astonishing 120m viewers worldwide, and scored more views than next three most-watched videos combined.
And that's a lorra lorra views.
The second placed video is equally improbable, with a two minute video showing a disorientated seven-year-old boy being driven home after an appointment at the dentist.
That managed to notch up an astonishing 37m views.
YOUTUBE'S MOST POPULAR GLOBAL VIDEOS
In the UK, an advert for Evian showing roller skating babies proved the most popular, followed by a video of a farmer herding sheep wearing LED vests.
THE UK's MOST POPULAR GLOBAL VIDEOS
Here's a selection for you to enjoy. If you haven't seem them a hundred times already, of course.