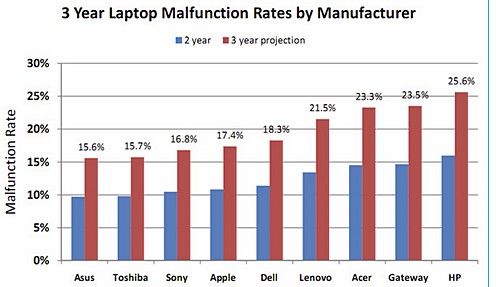 A new study by warranty company SquareTrade analysed failure rates for over 30,000 new laptops covered by their plans, and found Asus and Toshiba to be the most reliable machines, with Sony not far behind in third place.
Worryingly, one in three of all laptops failed within 3 years, with SquareTrade discovering that netbooks were 20% more unreliable than regular laptops.
ASUS emerged with the best record, with just 10 percent of their machines wobbling out in the past two years (giving them a 15.6% failure rate projected over three years), .
Toshiba were just a smidgen behind (15.7% over three years) with Sony (16.8%) in third place,  followed by Apple (17.4%), Dell (18.3%) and then a fairly big leap up for Lenovo with a troubling 21.5% malfunction rate.
Things were even worse for Acer (23.3%), Gateway (23.5%) and finally HP (25.6%) who rounded off the hall of shame.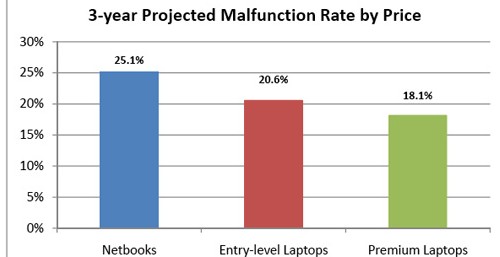 Not surprisingly, cheaper machines were found to be more likely to fail first, with the study putting the failure rate of  netbooks at 25.1% over three years, 20.6% for entry-level laptops and 18.1% for premium machines.
These figures should be taken with a pinch of salt though, seeing as they're solely based on returns by people signed up to SquareTrade's extended warranties, but they may be worth bearing in mind if you're in the market for a new machine.
Are Apple and Lenovo really that bad?
We're rather surprised to see Apple in fourth place and even more shocked to see Lenovo languishing in sixth place: both  manufacturers are renowned from their rock-solid machines (our Thinkpad X32 seems near indestructible).
It comes as no surprise to see netbooks faring so badly –  you pay for what you get after all- but we wonder if their high failure rate isn't partly influenced by people's "sling 'em in the bag" attitude towards them?
Tell us what you think!