If you're an avid Android-toting notetaker and want to be able to easily access and edit your content on the move – and don't want half a ton of pointless bells and whistles – then we reckon we have the winning combination for you.
We tried the rest…
After trying out the likes of Google Docs, DropBox, EverNote and a hundred other note-bagging apps and services, we reckon that the mix of the Flick Note Android app, the cloud-based Simplenote service and the Windows desktop app, ResophNotes, is the best in town.
Using this combo, you'll be able to easily create, read, edit and synchronise your notes wherever you are, and see those changes instantly updated across multiple devices.
Sound good? Read on to see how we reached this note-taking-nirvana!
Step one: create a free Simplenote account.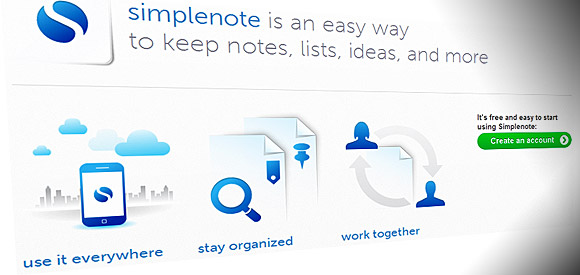 This is straightforward enough: click on to the sign-up page on Simplenote's website, slam in your email and password and you're done.
Once you're logged into their website, you can create notes and keep useful timed snapshots of document edits as back ups (and even restore deleted notes), but the next step is to get these synchronised with your handset.
Step two: download the Flick Note Android app 
Head into Android Market and help yourself to the Flick Note app. This comes in comes in two flavours (free with ads or the paid version for £3.22).
The app offers a no-nonsense, text-only note taking environment, with options to select custom fonts and colours and add tags.
URLs and phone numbers, and names of other notes are conveniently clickable, and you can make checkboxes for basic to do lists. You can also share your note with just about any app on your handset that offers a "share" feature too.
Let's get syncing
To get the app syncing with the Simplenote cloud-based service, it's simply a case of clicking the 'menu' button within the app, selecting 'preferences' and then inputting the email address and password you used for your Simplenote log in.
In the same dialogue box, you can also select how often you'd like the app to sync to the service (we chose 'automatic') and choose your sorting and theme preferences.
With the Flick Note app synced with your Simplenote account, any changes you make on your phone will be viewable on your PC when you log in via your browser and vice versa –  and you can also view notes when you're offline.
Step three: download the free ResophNotes Windows desktop app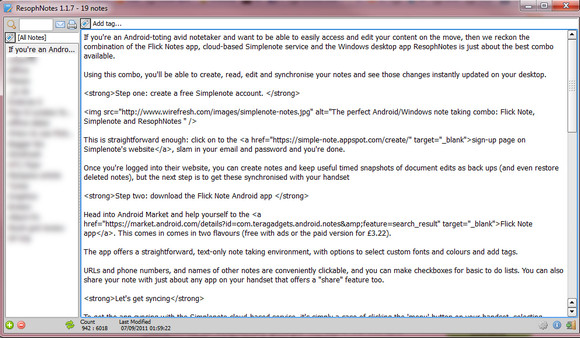 Although the Simplenotes browser interface is pleasant enough to use, we much prefer the more versatile ResophNotes app, which offers a simple interface backed by loads of keyboard shortcuts for speedy operation.
A two paned interface serves up a listing of your notes on the left, with the content being displayed on the right.
A minimalist top nav bar lets you search your notes, pin a note, email or print the current selected note or add tags.
At the bottom of the interface is a narrow bar letting you create new notes, delete an existing note, view the word/character count of the open document and access the config panel.
To get ResophNotes syncing with Simplenotes (and, in turn, Flick Note) you need to enter the same details of your Simplenote account in the config panel (Config Panel -> Simplenote) and you're done.
Quick, simple and does the job
This note taking combo is very, very simple and very easy to use, with any edits made via the Android app, ResophNotes program or Simplenote browser interface being automatically and seamlessly synced.
We've found it to be the best note taking combination we've come across so far and can't recommend it enough.
Oh, and although ResophNotes is free,  feel free to donate if you end up liking it as much as we do!
(Note to Mac users: ResophNotes is near-identical to  Notational Velocity on the Mac, and there's a native Simplenote app for the iPhone – both are free).
What's your favourite?
We've declared our love for our #1 note taking combo – but what's your preference? Which mobile and/or desktop apps are doing it for you?
Please post up your tips in the comments section below and share your tips!