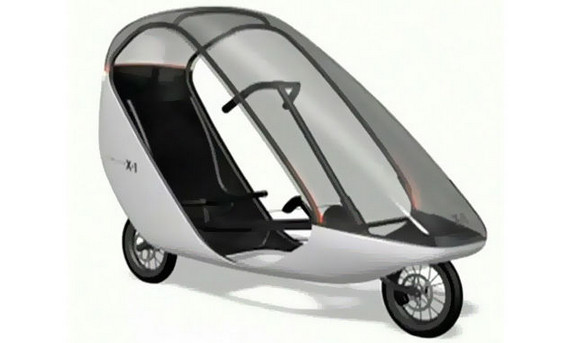 Sir Clive Sinclair's first stab at cheap, clean personal transport, the Sinclair C5 which was released 25 years ago, was so far ahead of its time that it was met with ridicule and proved a huge commercial flop .
However, the British inventor of the ZX80, ZX81 and ZX Spectrum computers is back with a new electric vehicle concept, the new Sinclair X-1.
Like its predecessor, it's powered by a mix of battery and human elbow grease, with its lightweight rechargeable 24v Lithium Polymer battery pack claiming to serve up to 10 miles travel for just 10-pence-worth of electricity.
No licence required
The X-1 is powered by a 'super efficient' MCR pancake 190 watt motor, linked to the rear 16″ wheel by a fixed gear drive chain –  and because it's classified as a bike, can be driven by anyone over the age of 14, and without a licence, insurance or road tax
Enclosed in an acrylic bubble with an integral roll cage frame bonded to monocoque chassis, and backed by front and rear disc brakes and lights, the X-1 hopes to persuade people that it's a far safer proposition than Sinclair's first wobbly effort.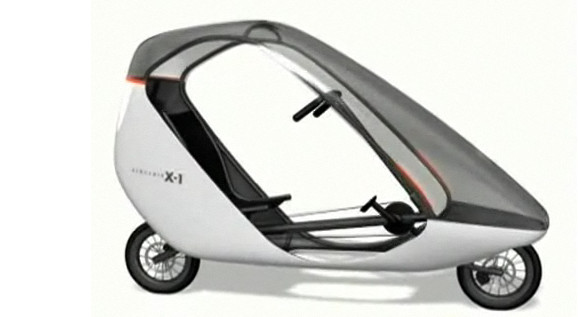 The Sinclair Research X-1 is expected to go on sale in July 2011 for £595. UK residents may be eligible to get a 50 per cent reduction under the Government's Cycle to Work scheme.
You can register your interest in the vehicle at www.sinclairzx.com.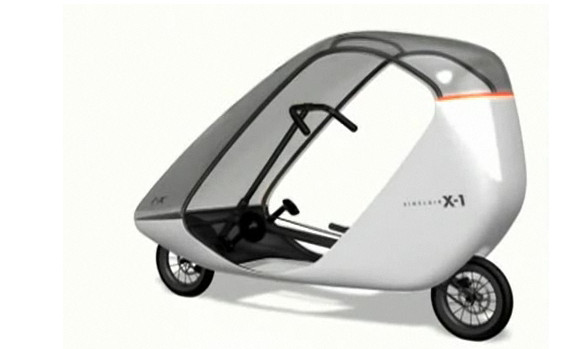 Features:
The X-1 electric vehicle can drive 10 miles for just £0.10p (based on an average weight passenger using pedal assistance)
It requires no fuel, just a lightweight rechargeable battery pack (24v Lithium Polymer pack supplied, secondary pack available as an option at extra cost of £50)
A super efficient MCR pancake motor is linked to rear wheel by fixed gear drive chain (motor rated at 190 watts, wheel size: 16″)
Front and rear disc brakes provide 100% stopping power
Adjustable suede covered handlebars to suit any position
Waterproof Acrylic bubble protects driver and includes integral roll cage frame bonded to monocoque chassis
Reclining nylon seat – highly comfortable on long or short journeys.
Superlight construction using carbon fibre lower shell and steel chassis (weight: 30 kilos)
Requires no driving license, insurance or road tax to be road legal (insurance recommended, subject to territory)
Strong visibility to other road users such as cars and lorries (built in front and rear lights aid visibility)
Can be driven in UK by anyone over age of 14 (including on cycle paths)
X-1 dimensions: 209x140x69cm
From RSP £595
If you live in UK and work in the UK you may qualify to purchase the X-1 with a price reduction of up to 50% via Government run, cycle to work scheme