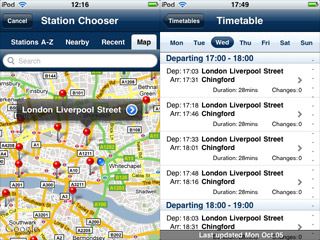 UK online train ticket vendors, the trainline, have released a freebie iPhone app for travellin' folks needing access to "train information anywhere, anytime".
The app for the iPhone and iPod Touch lets users view rail times and journey information for all national routes, with timetable information updated daily.
Using the iPhone's location services, the nearest  station can also be located from a list or on a map, with the "Plan Journey" option taking you to thetrainline's website to buy cheap (ish) tickets.
Download timetables
Conveniently, you can also download timetables for use when you're offline and save your favourite journeys, while a one-click  'next train' option will keep you posted as to how long you can stay in the boozer after work.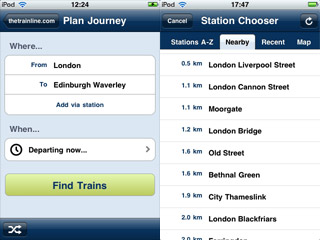 There's also a 'Tweet your journey' option, which thetrainline suggests you could use to, "share live news about your journey or find out who else on the train supports your football team."
Frankly, we could see the potential for some seriously back-firing Tweeting here, and Swansea City fans typing up, "Hey! We're in carriage D of the 1210 to Cardiff. Come join us!" may get something more than an '@' coming back at them.
If you get our drift.