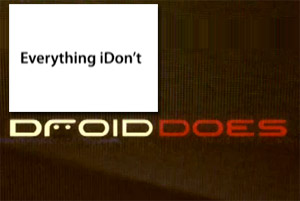 In the States, network provider Verizon have just released a commercial that takes pot shots at what they see as the shortcomings of Apple's massively successful iPhone.
The 'teaser' ad for their forthcoming Droid handset paints the iPhone as an 'iDon't' device, pointing out that it can't multitask, can't take 5-megapixel pictures, can't take pictures in the dark, can't be customizised, can't run widgets, and can't accept interchangeable batteries – and doesn't come with a real keyboard.
The gist of this campaign is that the Droid will do all these things and more.
No publicity shots of the Droid handset (previously known as the Sholes) can be seen in the advert, but it seems that Verizon are in the mood to big up their first Android powered device, with a US release expected in November.
We think that this advertising campaign is a bit of a Christmas turkey come early, and we question the wisdom of  Verizon taking the iPhone head-on with such a negative campaign.
For all its technical shortcomings (and there are a few, most notably multi-tasking), Apple's handset still offers a superbly slick user experience unlikely to be surpassed by Verizon's new handset, and the company may end up with egg on their faces when the Droid launches. Or should that be oil?