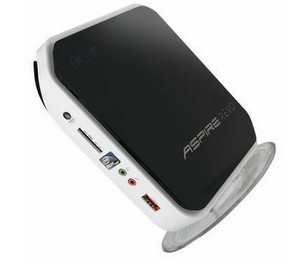 Anyone looking for a stylish mini PC netbook at a super-cut down price, should swiftly cast their eyes in the direction of the Aspire Revo R3600.
Offered by e-Buyer, who are currently offering the Revo for a few pennies under £150, this looks tremendous value to our eyes.
A stylish, Linux-powered number small enough to fit on to the back of your monitor, the Revo is powered by an Intel Atom 230 CPU (the single-core version of dual core 330), running at 1.6GHz – perfect for a small home server or media centre.
Users can expect smooth, lag-free desktop playback of HD video (720p and 1080p) and online standard def videos (YouTube, BBC iPlayer or TV Catchup etc), but can expect some juddery scenes if you're looking to play HD High Definition flash videos off the web.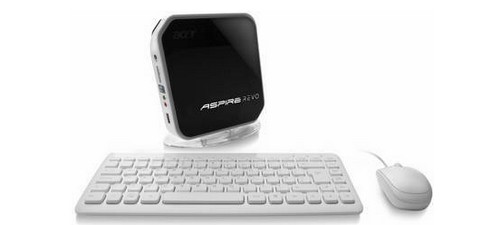 For your hard-earned pennies, you get 1GB of DDR2 800 SDRAM (upgradeable to 4GB for another £72),  160GB Serial ATA II hard drive, nVidia GeForce 9400 ION graphics and a bundled keyboard and mouse.
Connectivity comes in the shape of Wireless Lan, a healthy 6 x USB 2.0 ports, four-in-one card reader, high definition headphone and microphone jacks, ethernet port, D-Sub VGA, HDMI port and eSATA ports with the package measuring just 180 (L) x  180 (H) x 30 (W) mm.
All in all, this looks a great little package and at £60 off, well worth a punt if you're in the market for a cheap, small PC.