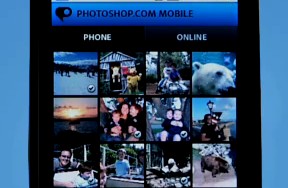 Last month, iPhone users were able to whip out their sleek handsets and laugh in the face of Android users, by showing off their fancypants Adobe Photoshop Mobile app.
As we reported, the free photo editing app comes with a sleek interface, offering a simple, toolbar-style drop-down menu serving up a range  of editing tools and effects.
The app gives users a selection of useful, if basic, image editing tools like cropping, image rotation, colour controls, along with simple one-touch filter effects backed by undo and redo controls if you get a little over-creative.
Edited images can either be saved on the phone or uploaded to the user's account, with the option to directly upload photos taken on the phone.
Android are in!
Now Android users can grab a slice of the action, with Adobe bringing Photoshop.com Mobile to the platform.
As far as we can see it offers all the same functionality, but we were unable to test it for ourselves as those nasty people at Adobe have made it a US-only release – just like the iPhone version.
UK users can punish themselves and see what they're missing by wathcingthe official video below while shaking their fists at Adobe.