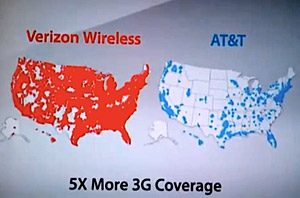 It looks like there's not much festive spirit being generated by Verizon towards their neighbours, as the US network launches a TV offensive on rival network AT&T.
A set of 30 second video adverts have focussed on AT&T's allegedly dreadful 3G network coverage, and take a fairly hefty swipe at the iPhone in the bargain.
With AT&T enjoying exclusive rights to distribute the iPhone in the States since the handset launched, Verizon are hoping to woo Christmas shoppers with the promise of superior nationwide coverage and their alternative smartphone offerings (namely the HTC Droid Eris, Samsung Rogue and HTC Imagio).
The campaign plays on the iPhone's advertising, using the strapline, "There's a map for that,"  illustrated by a map showing Verizon's 3G network to be five times that of their rival.
Not surprisingly, AT&T have declared themselves a tad unchuffed with the adverts and have reached for their lawyers on the Batphone in a desperatebid to get the ads pulled, but they've had no luck so far.
However, with Verizon rumoured to be offering the iPhone themselves next year, perhaps having the handset appear so prominently may not have been the greatest of moves. But – hey!  -w hat do we know about US corporate advertising?!
Check out two more videos below: