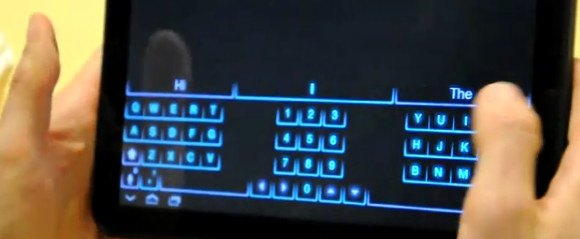 We're big fans of the SwiftKey Android keyboard (so much so that it managed to unearth our previous fave, Swype), and the developers at TouchType have shown off a new SwiftKey Tablet app for Android tablets.
Faster than the speed of light. Possibly
Designed "in partnership" with Google and Motorola and ready to roll out with the launch of the Motorola Xoom tablet, the keyboard has been given a funky Tron-esque makeover, with the keyboard being split into two.
Fine tuned for Android's new Honeycomb tablet OS, the company describes the skin as "holographic" and "thumb-optimised" for the Xoom's 10.1 inch display.
SwiftKey's super-smart core Fluency prediction engine comes built in to speed along text entry with almost psychic predictions, with TouchType claiming that their new "probabilistic modeling technique" will make the thing fly along even quicker.
Press release ahoy!
SWIFTKEY TABLET LAUNCH

MOUNTAIN VIEW, CA – A new app designed to offer a major productivity boost to typing on tablet devices, SwiftKey TabletTM, was unveiled Wednesday at Google's global headquarters in California.

The app, created by developers TouchType, has been designed in partnership with Google and Motorola to coincide with the launch of the world's first AndroidTM Honeycomb tablet, the Motorola XoomTM. It makes typing on tablet devices easier and faster by offering intelligent next-word prediction that is personalized to your writing style.

The app, powered by TouchType's patent-pending Fluency Prediction Engine, employs a holographic thumb-optimized keyboard skin, designed specifically for Android Honeycomb. This marriage of elegant design with incredible back-end power gives users a novel, exciting and fast way to type on a Honeycomb tablet.

TouchType co-founder and CTO, Dr Ben Medlock, said: "SwiftKey TabletTM has all the power of our next generation FluencyTM prediction engine, integrated with a completely redesigned interface, optimized for Honeycomb."

"To look at, this is a really exciting product – and once you try it, you'll be blown away. We've worked closely with Google to make sure SwiftKey TabletTM utilizes the power and flexibility of the new Honeycomb OS, and we believe that it really enhances the experience."
FluencyTM applies patent-pending AI technology to predict around a third of words before a single character is entered. This is boosted by learning algorithms that observe how you write your email, blog, Facebook and Twitter updates, and these continually adjust as you type to become more accurate.

The new Honeycomb app builds on a very successful launch of SwiftKeyTM, originally designed for smartphones. SwiftKeyTM quickly became the top keyboard on the AndroidTM Market after launch in summer 2010, with over 700,000 downloads in its first six months, and a very positive reaction from both users and the technology press. The app is currently available for a limited sale price of $1.99 on the Android Market.

TouchType's world exclusive prototype version of SwiftKey TabletTM, optimized for AndroidTM Honeycomb devices, contains brand new features in the follow areas:

Honeycomb-optimized skins and key layouts
SwiftKey TabletTM will ship with keyboard layouts specifically designed to enhance the text entry experience within Honeycomb on a Motorola XoomTM, with a holographic theme, custom skinning and a 10.1 inch 'thumb layout' to make two-handed typing easy.

Truly personal predictions
The new version of SwiftKey will offer the ability to analyze online profiles – Gmail, Facebook, Twitter, blog etc. – using advanced cloud-based technology to learn how a user writes, and quickly tailor the typing experience to make it deeply personal and accurate.

Typing modes to suit you
SwiftKey Tablet will have a new framework that allows users to customize their text entry experience with "typing styles." This means users who like to carefully select SwiftKey's next-word predictions to minimize character entry will be able to, but those who prefer superfast typing and like to rely on automatic correction will have this choice.

Multi-lingual prediction and language detection
SwiftKey TabletTM exploits the XoomTM's powerful chipset and memory to facilitate predictions in several different languages at once. The keyboard interprets what you've written to automatically offer predictions in the relevant language without the need for manual language selection. This offers a truly revolutionary productivity experience for busy, multi-lingual users.

Fluency 2.0 Prediction Engine
A radically redesigned and improved version of SwiftKey's core Fluency prediction engine is integrated into our Honeycomb product. This uses a brand new probabilistic modeling technique that integrates each aspect of the typing inference process (from initial key press to prediction choice).
The result will be greater robustness, prediction accuracy and writing efficiency, to a degree of sophistication never before seen on any tablet or mobile device. This demanding probabilistic computation will be handled effortlessly by devices such as the Motorola XoomTM.

Game-changing spelling and typo correction
Fluency 2.0's novel probabilistic framework allows for a new breed of multi-lingual spelling and mistyping correction on Honeycomb tablets. The system will not rely on predefined rules or lists of common mistakes; rather Fluency uses context-sensitive machine learning to infer likely mistakes directly from a real-time analysis of user-adapted probability distributions.

About TouchType
TouchType was founded in August 2008 by Reynolds and Medlock around the concept that computer science breakthroughs could improve the experience of typing on a touchscreen phone.

After a September investment round that included funds from Octopus Ventures and the Cambridge Capital Group, TouchType has received over $1.5 million.

TouchType works alongside leading technology manufacturers, mobile operators and software developers to bring customers the highest standards in language technology. It offers consumer solutions such as SwiftKey as well the backend Fluency engine for developer partners.