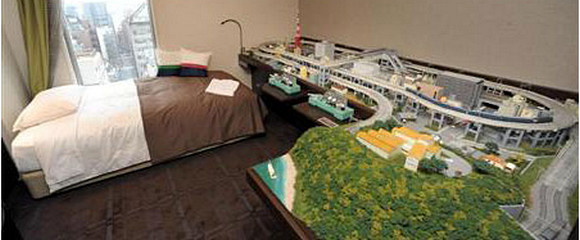 If you're the kind of bloke (for it is almost always blokes) who gets excited by model trains, transformers, track laying and sticking little lichen trees around a board, then there's a hotel in Japan waiting to embrace you with open arms.
The Washington Hotel in Akihabara has a special room designed specifically for model railway lovers, with the room offering a large, L shaped, fully working layout at the end of the bed.
The fully detailed recreation of a railway snaking around Akiba and Tokyo Tower lets guests take control of the trains and schedule imaginary expresses, pick up goods and semi-fast suburban trains to cruise around the layout, which measures up at 30 metres end-to-end.
And it has buildings that light up too!

Even better, guests can bring along their own locomotives and rolling stock to to play with, so you can be running push-pull chocolate and cream GWR Autocoaches powered by Collett 4800 Class 0-4-2Ts all night. And yes, we actually know what all that means.
The room is available for around $265 per night – but it's already fully booked up for the next three months.
[Via]