Purveyors of fashionable and upmarket earphones, LA firm V-moda have been making waves with their stylish Remix Remote earphones, promising to tie up great looks with superb sound quality.
As is the trend for pricier headphones, the earphones come with a load of extras, including a drawstring fabric carrying case, four sets of different sized opaque and translucent silicone ear tips and a pair of "detachable sport earhooks" for keeping the 'phones extra-secure when you're working that body in the gym.
Construction
The earphones are extremely well made, feeling solid to the touch, with the metal machining and etching adding something of a military touch. We think they look fantastic, although the styling might not be to everyone's tastes.
They might look quite chunky, but the Remix Remote earpieces aren't too heavy, so there's no problems wearing them for long periods.
Remote
As the name suggests, the Remix Remote version comes with a three-button Apple-authorized remote control, serving up in-line volume and play/pause buttons for iPods and iPhone.

The metal in-line remote forms a narrow cylinder, with the three rubberised controls in a raised strip. These operate the same as the standard iPhone remote and have a reassuring click when activated. On the opposite side of the controls is the omni-directional microphone.
The 2.2mm Kevlar  reinforced cable also feels tougher than most, with the 3.5mm jack having an unusual 'ray-gun' shape designed to make it less likely to break.
V-moda say that their new cable design was tested way beyond the industry standard, and back it up with a two-year, no-questions-asked warranty (and a Replay Replacement Program which offers a 50% off lifetime discount).
Listening tests
The first thing that impressed us was the unexpectedly beefy bass, with the fairly large 9mm drivers serving up a very well rounded bottom end which wasn't flappy or muddy, with plenty of kick.
Anyone upgrading from Apple's in-ear headphones will immediately notice the difference with the extended bass being matched by a superior top end, a clearer mid range and a more dynamic overall sound.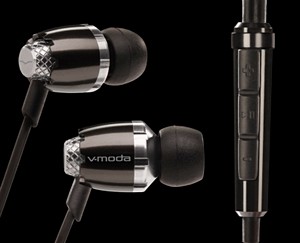 We compared the V-moda's with the Sennheiser CX550 MkII in ear headphones we tested last month, and with several people in the office trying out blind comparisons, the V-modas won every time, hands down.
That shouldn't be too surprising consider the price difference (around £90 to the £50 Sennheisers), but we reckon the difference is great enough to justify the extra outlay if you listen to a lot of music when you're on the move.
To be honest, once we'd been treated to the V-modas, it was quite hard going back to the Sennheisers, even though they are one of the best earphones available in their price range.
Built in microphone
To be honest, this isn't a high priority for us when we're looking for earphones, but in our tests the built in microphone did a reasonable, if unspectacular job.
Verdict
They're not particularly cheap at £90, but if you value your music, then ditching the bog-standard Apple earphones and grabbing a  pair of V-Moda Remix Remote earphones could prove a wise investment.
They look great, seem rugged enough to survive serious use, and the sound quality is excellent, particularly if you like your bass with a bit of 'oomph' to it.
Sensitive classical types and valve stroking audiophiles may want to look to more transparent options, but we loved the warmth and drive of the V-modas and have no hesitation in recommending them (please note that the remote and mic is only compatible with the iPhone 3GS).
Ratings

– Sound quality



– Build


– Features


– Value for money


– Overall
Buy them on Amazon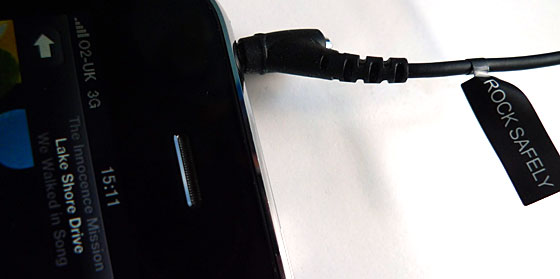 Features:
Three-button remote and discrete microphone
Newly tuned 9mm V-MASQUE HD neodymium dynamic driver
BEAT-PORT air flow system delivers a high-definition sound stage
V-MODA's revered BLISS (Bass Level Isolating Soft Silicone) noise-isolating technology further reduces outside noise and enables deep punchy bass for the ultimate audio experience.
Universal Compatibility
Adjust the volume, control playback of your music, record voice memos and answer calls
Remote and mic compatible with iPhone 3GS, iPod shuffle (3rd gen), iPod touch (2nd gen), iPod nano (4rd gen), 120GB iPod classic as well as MacBook, MacBook Pro, iMac and Mac Pro (2009 and newer models)
Audio is supported by all iPod models and devices with a 3.5mm jack
Compatible with Apple Voice Control and Voice Over technology (iPhone 3GS and iPod shuffle 3rd gen)
iChat and Skype compatible
Ultimate Ergonomic Comfort
Newly designed medical-grade soft silicone fittings
Patent Pending detachable sport earhooks with Active Flex technology
Four pairs of both black and clear silicone fittings (XS, S, M, L)
Built To Last
Custom designed 2.2mm Kevlar reinforced cable built 3x-10x stronger than normal cables.
45 degree, 24k gold plated plug
All metal construction headphones and y-connector
Two year V-MODA premier warranty and lifetime Replay Replacement program
[V-moda]