If you're looking to upgrade the deeply average earphones that came bundled with your iPod, iPhone or MP3 player, Sennheiser's natty CX550 MkII noise-isolating earphones could represent a tempting investment.

Construction
Beefily constructed from precision-cast metal and plastic, the CX550s are light but reassuringly solid and come in a pleasing two-tone finish with a high standard finish.
Sennheiser reckon that their "unique angle design" helps the cable stay in place and they're probably right – after fitting the appropriate adapters, the earphones stayed as snug as a bug in a rug in our lug'oles, despite some vociferous head-shaking to the Ramones during testing.
Packaging
Although we loath those 'unboxing' videos that content-desperate websites foist on users, the hefty heap of frivolous fluff that came with the Sennheisers is worthy of comment and much tut-tutting.
Presented in a lavish box, there's no doubting that these earphones are being marketed as a premium product, but the amount of packaging used to deliver such a tiny product is spectacularly daft.
Unlike the clever, cardboard-only eco-packaging that impressed us so much with the Sennheiser CX300 earphones, the CX550s come bundled in a ton of pointless plastic and heavy cardboard – there's even four magnets incorporated in the packaging to make the front  flap close for Chrissakes. Ridiculous.
Less is more please, Sennheiser. Lots less.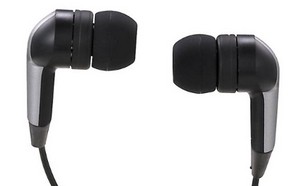 Loads of extras
Once we'd yanked out the plastic inner packing and pulled apart the various layers we were able to see that it all added up to a substantial offering.
As well as the earphones, there's rubbery ear adaptors supplied in no less than two types and five different sizes to ensure a tight fit in your ears, plus an 0.8m extension cable, a cable clip and a rather posh leather carrying pouch with a magnetic flap.
Keep an eye out for this as your other half may snaffle it as a handy purse/mini wallet.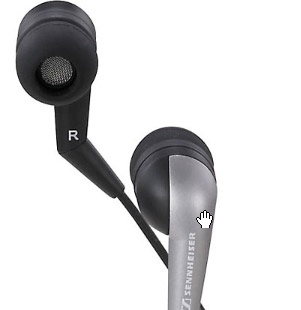 Short lead
One thing to note is that these earphones intentionally come with a short lead – this is to let you use them with a mobile phone or MP3 player with a remote-control and/or microphone.
So if you're looking to replace the underwhelming headphones that came with your iPhone, using the Sennheisers with something like the Griffin SmartTalk Headphone Adapter and Control Mic
(around £8) can provide an far superior sound without losing any of the functionality.
Of course, there's always the option to use the included extension lead if you're finding the lead too short.
Sound quality

The specs were certainly impressive enough, with a quoted frequency response of 17Hz – 22.5GHz, sound pressure level of 114db and total harmonic distortion of less than 0.2 per cent, but it's how they sound that matters – and we were impressed.
Sennheiser's custom-built miniaturised drive units and neodymium magnets served up a solid soundstage that was a pleasure to listen to.
We played back a wide range of music types from podcasts to hip-hop to alt.folk and found the sound to be balanced, detailed and comfortable enough to use for long listening sessions.
Although the bass was never going to set your teeth chattering and your earrings oscillating wildly, there was certainly enough oomph onboard, with the treble remaining crisp and tamed throughout (and that's no small challenge for in-ear headphones).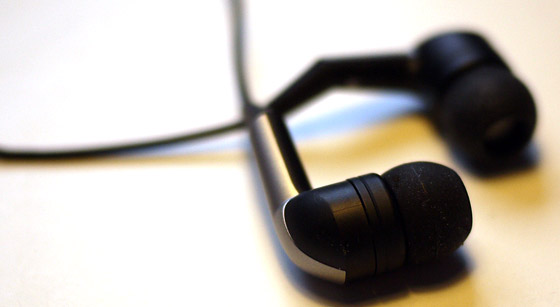 Nosferatu in your ears
One thing to be aware of however: with the adapters forming a tight, noise-isolating bond with your noggin, you may find your breathing amplified and your footsteps resonating in a manner reminiscent of a tense soundtrack to a horror movie.
If you're on the move with a flapping cable, this can also add unwanted extraneous sounds, so if you like to listen to classical music or super-softy delicate folk, it may be worth auditioning these earphones before breaking out your wallet.
We didn't find it a problem at all, but it can take some getting used to.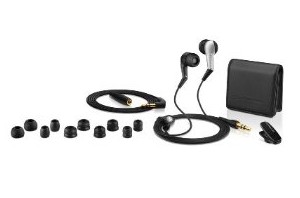 Conclusion
We enjoyed the stylish looks and superb sound quality of the Sennheiser CX550 MkIIs.
The vast range of eartip adapters, backed by a high quality finish and well thought out ergonomics mean that these earphones should remain comfortable on even the longest trips.
For some, the short cable may prove problematic – it was a bonus in our book – and although the unnecessary packaging irked us, there's no doubting that the Sennheisers represent good value for money (at around £50) and are well worth the investment for music lovers.
Recommended.
Ratings

– Sound quality


– Build


– Features


– Value for money


– Overall
Buy them on Amazon
now.
Specs:

Frequency response (headphones), 17 Hz – 22,500 Hz
Cable length 0.6 m (+ 0.8 m)
Impedance 16 O Sound pressure level (SPL) 114 dB (1kHz/1Vrms)
THD, total harmonic distortion < 0.2%
Weight Approx. 12 g.
Warranty: two years