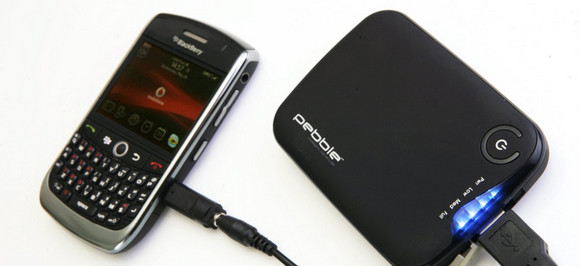 It's a ruddy pain in the nadgers when your favourite gadget prematurely runs out of juice when you're miles from a main socket, so we're big fans of carrying around a back up power source to keep us connected.
There's loads of companies offering battery packs in all shapes and sizes, but perhaps our favourite is the Veho Pebble 5000mAH Portable battery pack charger.
Available online (with a bit of shopping around) for as little as thirty quid, the charger packs an impressive 5000mA battery- enough to fully charge an iPhone four times over.
USB charge
The Pebble is initially charged up via USB using the included cable, with the four blue lights on the top providing feedback about charge levels, with a charge from flat taking about seven hours.
The included cable doubles up as both a USB lead for charging the phone off a PC and a lead to connect up your various devices, so there's less to lose than some chargers.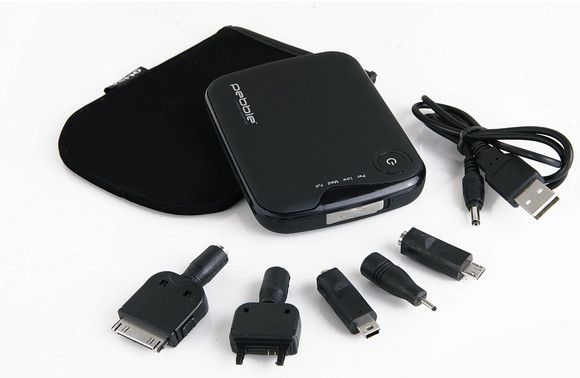 Pocketable
It's quite a sleek package measuring up at 9.9 x 7.2 x 1.8 cm, and comes with its own neoprene carrying pouch and a vast selection of tips to let you plug in a wide variety of devices (see the full listing below).
We tested the Pebble over the summer and it proved a Godsend at rain-lashed festivals where we were forced to retire to the tent for some ale, Pot Noodles and web surfing.
At the end of a long day sat in a field watching a band, we were able to plug in the Pebble overnight and wake to a fully recharged phone, with the charger automatically turning off once our HTC Desire was fully charged.
The Pebble can currently be bagged on Amazon for £29.99
which seems a bit of a bargain to us.
Recommended.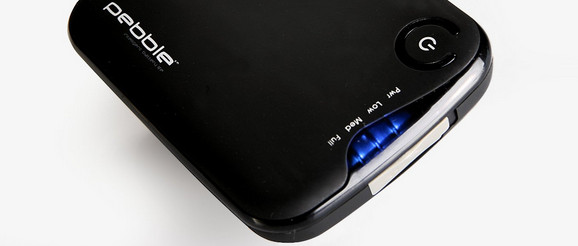 Technical Details
Product Description: Veho VCC-A007-PBP – external battery pack
Product Type: External battery pack
Dimensions (WxDxH): 5.6 cm x 10 cm x 1.3 cm
Weight: 132 g
Voltage Required: 5 V
Voltage Provided: 5 V
Battery: – 5000 mAh
Battery Type: Polymer Lithium-ion rechargeable battery
Capacity: 5000mAh
Output Volts: 5.4V
Output Current: 750mA
Charging time: About 6-7 hours via wall adapter
Product Size: (L)99 x (W)72 x (H)18 mm
Protection function: short circuit,over-current,over-charging,and over-discharging
Weight: 140g
Cycle life: Over 500 times
Apple connector tip: for iPhone 3G, 3GS, iPod Classic, iPod Touch, iPod Nano
Nokia connector tip: For N70&Nokia 8210, work with all most Nokia phones
Samsung Connector Tip: D800: U100/Z170/T219/Z240/E250/E258/P300/F300/U300/P308/P310/I320/T329/M359/F369/F379/E390/Z400/Z400V/E428/E488/E498/E500/F500/S501i/T509/T509S/Z510/Z518/F519/T519/D520/D528/E830/Z540/Z540V/Z548/Z550/W559/Z560/E570/F589/I600/J600/J600E/U600/i607/F609/T629/Z630/Z650i/E698/U700v/A707/Z710/I718/D720/S720i/D728/S730i/E740/E778/E780/E788/D800/D807/D808/T809/D820/X820/X828/D828/D830/X830/D838/X838/E838/E840/D840/E848/D848/E870/E878/E898/D900/E900/D900i/E908/D908; SamsungG600: 108/W159/P180/C180/F200/F208/F210/E218/F218/P220/L258/F258/P260/M300/F330/F338/i408/R410/i450/i458/P520/P528/C548/i558/W599/G600/L600/M600/L608/G608/M608/M618/D618/J618/W629/i640v/F708/J708/i728/J750/J758/L760/L768/i780/i788/G800/G808/D888/U908, SamsungA288: U06/K98/P100/C100/E100/V100/T100/X100/X108/C108/D108/H108/P108/E108/T108/C110/C120/S120/X120/T130/X140/X150/X160/X168/N191/199/X199/A200/X200/Q200/S200/N200/P200/V200/R200/A205/T208/Q208/V208/R208/R210/X210R/210S/C210/R220/R225/A250/N260/268/N288/A288/N299/A300/C300/E300/S300/S300M/X300/T308/A308/S308/A310/E310/E318/X319/E330/E330N/E338/E340/350/E350/A350/E360/E368/E370/E378/E380/A388/E390/A399/E400/X400/A400/N400/P400/S400i/S401i/A408/T408/P408/410/D410/T410/D418/E418/D428/X430/X450/X460/X461/X468/X480/X481/X488/X490/X500/N500/D500/D500E/S500/S500i/S501i/A505/A508/X508/S508/E508/T508/V508/D510/P510/X510/X510V/P518/X530/A539/A563/A599/X600/N600/D600/D600E/E600/E608/D608/X608/X609/X610/E610/X619/A620/N620/X620/N625/N628/628I/H628/S628/A630/E630/E638/X640/E640/X650/X659/X660/X660V/X670/X680/X680V/X700/E700/E708/X708/E710/E730/E760/E770/A790/E800/X800/A800/E808/P809/E820/E830/E850/P850/E860/P900/N1016/1318/N2000/2018/2019/A2100/2106/2108/2109/N2600/A3000/3016/3018/A3406/3408/3409/A4000/6898/6988/A8200/A8800
Sony Ericsson Connector Tip For: J100/j100A/J100C/J100i/J120i/K200/Z200/W200/Z208/K220/J220/j220a/j220c/J220i/J230/J230i/W300/w300c/W300i/K310/K310i/Z310/K320/S500i/K510/k510a/k510c/K510i/Z520/Z520a/Z520i/Z520a/Z525a/Z530/Z530i/k530i/W550/w550c/W550i/k550i/Z550/Z550C/Z550i/W550C/Z558/Z558i/W580/M600/M600i/S600/W600/w600cW600i/W600C/M608C/W610/Z610/Z610i/K610/K610i/k610im/K618/k618i/K620/V630/V630i/W700/w700c/W700i/S700C/W710/W710i/Z710/Z710i/Z710C/K750/K750i/K750C/D750i/k750i/K758/k758c/K790/k790a/K790i/K800/K800i/W800/W800C/W800i/W810/w810i/k810i/W810i/K818/W830C/w830i/W850/W850i/k850i/W880/W880i/W888C/W900/w900c/W900i/W910i/W950/W950i/W958/W958C/W960i/P990/P990i
NDSI Connector Tip : Nintendo DSi/Nintendo DS Lite
Micro usb tip: All Blackberry & mobile phones with micro usb port
Mini usb tip: Blackberry & mobile phones with mini usb port and all devices with mini USB; Sony PSP