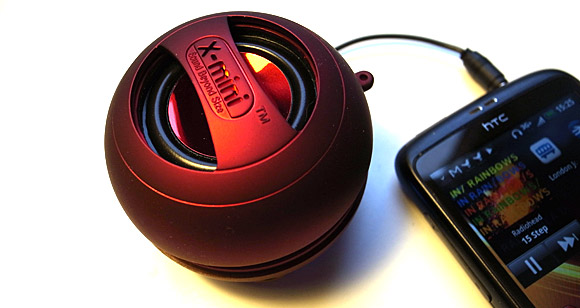 Serving up a sound far bigger than its petite dimensions is the attractively bijou X-mini II Capsule Speaker from XMI.
Claimed to be the 'world's first pocket sized speaker with built in bass support and it's own rechargable battery', the Capsule Speaker comes in an innovative yo-yo shaped case which can be twisted and extended upwards like an accordian.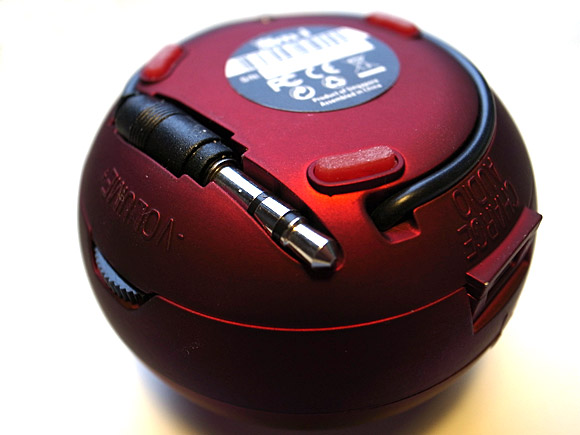 Vacuums and woofers
The X-mini II uses patented 'Vacuum Bass' technology which according to the makers, "mimics the resonance characteristics of a subwoofer, giving the Capsule a crisp, full bodied sound and volume."
Underneath the speaker is a stow-away 3.5mm audio cable, and there's a USB charger lead bundled in the box, along with a pouch for storing the speaker.
Measuring just 60mm×60 mm×44mm the whole thing is a lot smaller than you might expect, and the X-mini II also comes with a feature called "Buddy-Jack" which lets users hook up a row of X-minis to a single music source to provide a beefier all round sound.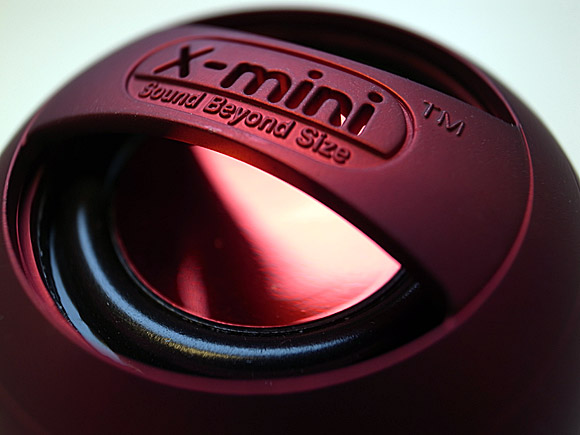 Sound quality
Although we can't say we exactly felt sub woofer frequencies shifting our bowels around, there was certainly enough low frequencies being sent out to send the wee speaker dancing along our desktop and overall we were very impressed with the sound quality.
Normally with speakers this small, you can forget about anything remotely resembling a natural bass response, but this little fella had a fair stab at the lower frequencies, and for something so small, the sound was impressive.
Volume went higher than we expected too (although at full volume it became quite abrasive) but overall we loved this little speaker and for just £13 for the black XMI X-mini II Mini Speaker
it's an absolute bargain.
Fashionistas who are liking the look of the rather stylish red number pictured here will have to shell out a little more with the X-Mini II Capsule Speaker Colour RED
costing £18.
Both are thoroughly recommended.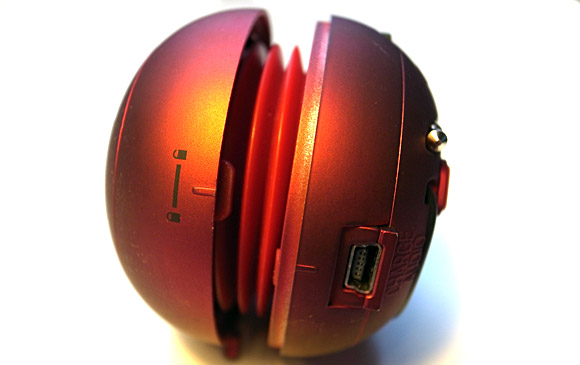 Specs:
Dimensions (L×W×H): 60mm×60 mm×44mm (closed resonator)
Net Weight: 83g
Speaker: MAGNETISM PREVENTФ40 MM 2W/4Ω
Loudspeaker Output: 2.5W
Rating Power: 2.0W
Frequency Response: 100Hz-20Khz
Signal-to-Noise: ≥80db
Distortion: ≤1.0%
Playback Time: Up to 11 hours
Battery Voltage/Capacity: 400mAh
Battery Charging Voltage: 4.2V±0.05V
Battery Charge Time: 5V – 2.5 hours.
[X-Mini]