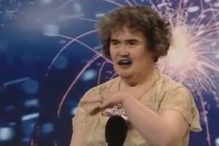 In a few hours we'll know if Simon Cowell's plans to shunt his ghastly brand of ultra bland pop into the top of the charts every Christmas has succeeded or not.
We're hoping that the campaign to break the X Factor's run of festive number ones is successful and Rage Against The Machine's "Killing In The name Of" hits the hallowed number one slot. Fingers crossed!
While you're waiting, here's a great parody video – don't miss the Susan Boyle bit after 0.53secs!