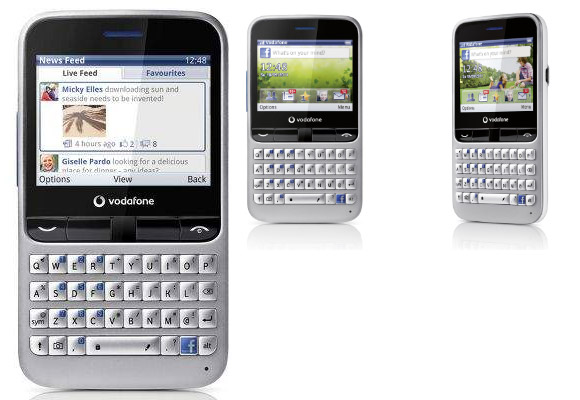 Vodafone has jumped on the social networking gravy train and introduced its own 'Facebook Phone' in the shape of the Vodafone 555 Blue.
Aimed at the cheapo segment of the market (i.e. teens and the developing world), the handset doesn't trouble itself with niceties like a well known operating system, and instead elects to run Vodafone's proprietary operating system.
Slim pickings
Connectivity options can best be described as sparse, with no 3G or Wi-Fi connectivity onboard, as users are compelled to make do with the beige heat of a 2.5G / EDGE connection.
Reflecting its keyboard-pummelling target audience, the phone comes with a physical Qwerty keypad, as well as a 2.4-inch screen, a modest a two-megapixel camera, Micro-SD card slot and the all-important dedicated Facebook button on the keypad.
Join the Faceborg
In line with its tight integration with all things social, new users will be prompted log into their Facebook account as soon as they turn the phone on, while those yet to succumb to the Faceborg will be able to sign up directly from the handset.
Joanna Shields, Facebook's vice president and managing director EMEA was positively bursting with excitement:
What they've done here is truly created the most brilliant product from the ground up," said purred. "It's Facebook-enabled in all aspects."  Woohoo!
Cheap as chips
The 555 Blue is set to go on sale in August across various Vodafone markets, including the UK, priced at the bargain basement  sixty quid mark, on a prepay tariff with bundled data allowance.
It's certainly cheap, but we wonder is canny users wouldn't be more tempted to invest in a similarly priced Android handset offering higher specs and access to a fully stocked app store.
[Via]