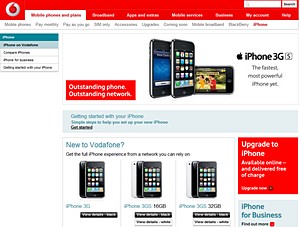 With network operator o2 no longer holding the rights to exclusively offer the iconic iPhone 3G and 3GS handsets in the UK, there's been a veritable scramble of operators looking to score some iPhone action of their own, with Vodafone UK joining Orange and Tesco Mobile today.
Vodafone is now offering the 8GB iPhone 3G for free with a minimum monthly plan of £35 spread over an awesomely long 24 months.
Users looking to scoop the latest models can also get the phone for free, but can expect to lay out a minimum monthly tariff of £45 for an iPhone 3GS 16GB or £75 for the 32GB version, both with 24 month contacts taking you right into 2012.
We think you'd have to be madder than an acid-addled March hare on a bouncy to castle commit to such lengthy contracts, but Vodafone is predicting bumper sales of the iPhone on their network launch, and are expecting to shift 50,000 handsets today.
[Vodafone]