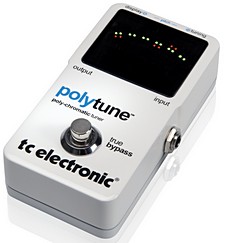 Guitarists who find tuning their instrument a bigger challenge than scaling the Eiger in a suit made of fish may find salvation in TC Electronic's revolutionary new Polytune – claimed to be the world's first polyphonic tuner.
The stomp-box sized "tuning miracle" invites guitarists to strum all the strings on their guitar or bass at once, with a 100-strong LED display matrix immediately flagging up which strings are out of tune.
Musos can customise the reference pitch from 435Hz to 445Hz, and there's support for dropped tunings from E-flat all the way down to B. With only a drummer in the house, we don't actually know what that means, but we'll try to drop it into conversation down the pub later.
PolyTune also packs a chromatic tuner offering 0.5 cent accuracy and two separate chromatic tuning modes; needle mode for the classic view and stream-mode, which measures pitch variation and displays it onscreen via a rotating motion.
Wrapping up the feature set, there's a nifty Tuning Magnet feature which slows down the needle once you're close to the desired pitch, an ambient light sensor for controlling the brightness of the LEDs and the pedal stores user preferences so you won't have to input your choices every time you're onstage and ready to rock. With your axe.