Keen to catch up with the Pope protest on Saturday, I had my first go on the Barclays/TFL bike hire scheme, hopping on a free bike and dashing across town to get snapping.
Finding the nearest bike rack was dead simple thanks to the superb Cycle Hire Widget, which worked a treat on my Android phone.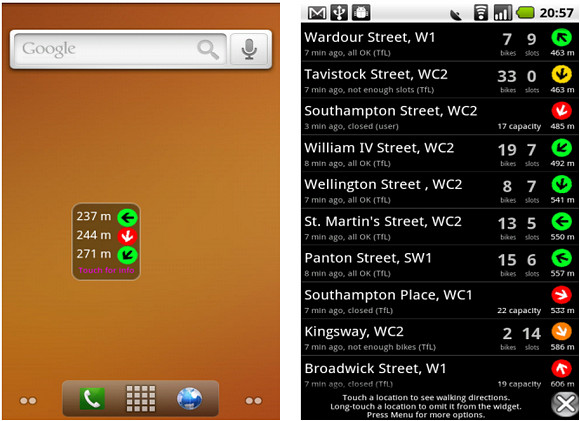 The app sits on your phone's home screen, with three colour-coded arrows showing you the direction of the nearest stations, along with bike availability.
Simply follow the arrows as you walk and you'll be on your bike in no time!

The wheels o'steel
The bikes aren't the sexiest looking creatures on the road, but they're sturdy, tough, with easy gears making them ideally suited for the potholes and rigours of the London streets. They look even better when they've been 'customised' too!
There's loads of bikes located around central London (although none to be found south of Kennington for us Brixtonites), although some of the racks will be full/empty depending on the time of the day, so be sure to check with your mobile app before heading off.
It's all about the hops
The scheme is aimed at cyclists who don't want to/can't take their bikes into town, or for people who just need a bike for a quick hop around town, perhaps to a business meeting or for some shopping or to grab a coffee or whatever.
It's all about short term hops, not traditional bike hire, so tourists looking for leisurely tours of London might be advised to use more conventional bike hire firms.
Prices
To get in on the scheme, you need to get a membership key from the TFL website – which will cost you £3 -and this slots into the street bike rack above.
Once the light turns green, the bike is released and you're on your way!
You have to pay a small fee to access the service:
24 hours – £1
7 days – £5 equivalent to only 71p/day
Annual – £45 equivalent to only 12p/day
I went for the year-long option, which seems remarkable value, costing little more more than a few cab fares around town.
Usage charges
You pay for the time between picking up and returning a cycle, but, crucially, the first 30 minutes is free – so for most hops around town you'll pay nothing.
Here's the breakdown of charges:
Up to 30 minutes – FREE
Up to an hour – £1
Up to one and a half hours – £4
Up to two hours – £6
Up to two and a half hours – £10
Up to three hours – £15
Up to six hours – £35
Up to 24 hours (maximum) – £50
The docks are dead simple to use, both for taking out and returning bikes.
A nice touch is the online statements that you get when you log onto your online account, which provide a detailed listing of your pedalling activities, e.g.:
18 Sep 2010
15:51 18 Sep 2010
16:05 Panton Street, West End – Endsleigh Gardens, Euston Hire £0.00

18 Sep 2010
14:27 18 Sep 2010
14:50 Great Marlborough Street, Soho – William IV Street, Strand Hire £0.00
Feeling the love
I love the bike scheme, and can't recommend it enough – and it's not just for Londoners either, as one urban75 poster commentated:
I live out in the sticks in Hertfordshire, and can't be arsed to lug a bike (folding or otherwise) down to London on the train in rush hour, so the hire bikes are ideal for me.

Stonking value at £45 a year, (Kings Cross to St Pauls, 12 mins) and I don't have to traipse up and down to the underground, and cram onto a tube at KX. I use the bikes to pop to shops / meet friends for lunch etc, and can't imagine ever needing to rent for more than 30 mins at a time. Fucking awesome TFL.
For a full discussion on the bike hire scheme – and the inevitable argument about helmets, safety and anything else you can think of – check out the urban75 discussion thread.
(*this article originally appeared on the urban75 blog)