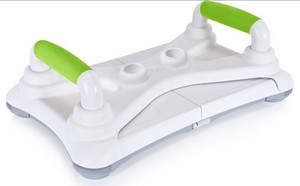 We love our Wii Fit and Balance Board – especially when it awards us a "Wii Age" decades below our decrepit years – and for folks wanting to push things a little further, CTA Digital have released their "Wii Balance Board Push Up Bar."
Remarkably, chummy Doug and grating Julie manage to pad out a whole three and a half minutes blathering about this gadget, but there's not an awful lot to talk about.
The Push up Bar simply sits on top of the Balance Board and offers six presets for placing the two push up bars in different positions.
The board is available on pre-order in the States for $24.99, while us Brits will have to make do with doing real push ups for now.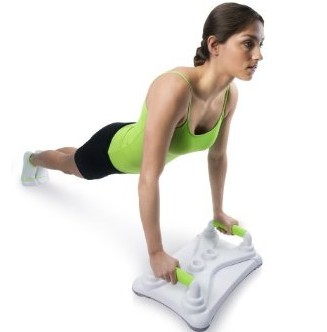 Features:
Made specifically for the Wii Fit balance board
Attaches securely to the top of the balance board
foam  under platform, securing grip on the balance board
raises your body higher to perform deeper pushups as you go down, past your chest
removable, adjustable angle handles
Compatible with the following Wii and Wii Fit games:
New U fitness
Wii fit
Wii fit plus
Jillian fitness ultimatum 2009
Jillian fitness ultimatum 2010
Package includes:
(2) Adjustable push up bar handles
(1) Pushup bar handle peg bar