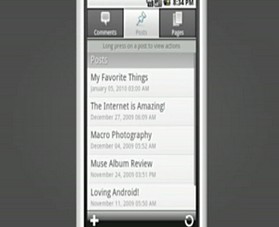 Mobile bloggers toting Android phones should be chuffed to discover that WordPress is now available in the Android Market.
The new app has been based on the popular wpToGo app, which has been used as the foundation for the WordPress app.
The old wpToGo app will now be unceremoniously shunted off into a disused branch line and left to rust away, while all the development efforts will focus on the the Open Source WordPress for Android app project.
The new app boasts the following features:
* Configure and manage multiple blogs
* Comment moderation including the ability to reply to comments
* Create and Edit Posts including categories, tags and photos
* Create and Edit Pages
* Get notified of new comments in the Android notification bar
More info:
[WordPress for Android]
dev.android.wordpress.org