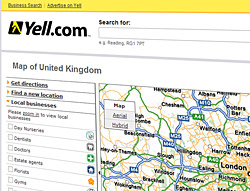 Yell have announced the availability of their Yell.com iPhone application.
The free app lets iPhone-toting users snappily locate the two million+ UK local businesses available on Yell.com.
It works pretty much as you might expect, with iPhone users able to choose a particular area to search, or let the phone find where they are via the built in GPS and then be served up results local to that area.
Matthew Bottomley, director of new media product marketing at Yell.com in Britland, grabbed the mic and revved up his PR engines:
The iPhone is a highly innovative product. We are constantly looking for new ways to connect local businesses with new customers, so putting Yell.com on the iPhone is a natural thing for us to do.

We're delighted that iPhone users agree – the viral take up was fantastic and resulted in the App being the number three free download within days of launch. It just goes to show how relevant local classified search remains in today's fast moving lifestyles.
The Yell.com iPhone App is available for nowt from the App Store on iPhone and iPod touch or at www.itunes.com/appstore/
If you want to find out more about Yell.com's mobile services, hurtle your browser here or tap your way to their mobile site.