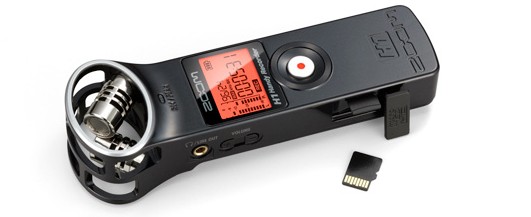 With a hugely competitive price to tempt amateur bloggers, struggling musos, journos and even those odd people who like to go around recording random things, the Zoom H1 offers professional quality audio recordings for under 90 quid ($99 in US).
Back to basics
The Zoom H1 strips things down to the essentials, foregoing the frills of fancy-pants flourishes like 4-channel recording and triple-capsule mics, and serves up a no-nonsense stereo X/Y stereo recorder capable of saving high quality 24-bit / 96-kHz audio.
Battery life on a single AA cell is quoted at a generous 10 hours of continuous operation, with the H1 able to take microSDHC cards up to 32GB for storage.
The unit is small enough to slip in a pocket (so bootleggers are going to love it!), and there's enough physical controls on the unit to make it nifty to use.  It looks great value to us (shame about the dodgy US/UK exchange rate hit though).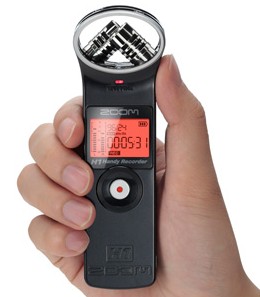 Key Features:
• Stereo X/Y mic configuration captures perfect stereo images
• Same frequency and SPL handling as popular Zoom H2
• Records WAV 96kHz/48kHz/44.1kHz at 16-bit or 24-bit
• Records MP3 from 48 to 320kbps for maximum recording time
• USB 2.0 port and integrated reference speaker built-in
• One AA size (LR6) battery – 10 hours operation
• Includes 2GB microSD memory card and AA battery
• Accommodates up to 32GB microSD memory cards
• Auto record level setting
• Track marker function
• Low cut filter
• 1/8″ external mic input
• Stereo 1/8″ line output
• Built-in mounting joint for tripod and mic stand mounting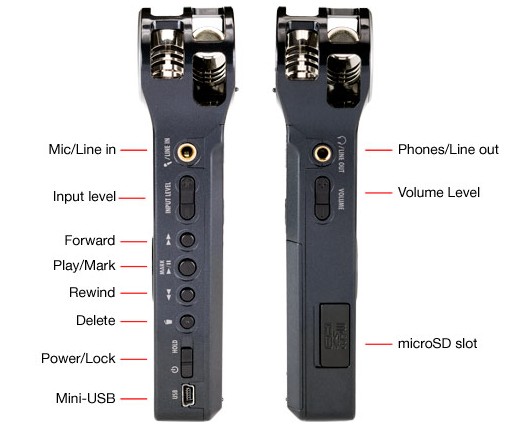 The Zoom H1 Handy Recorder will be available 'everywhere' on July 30th. More info here: http://zoomfx.com/h1.