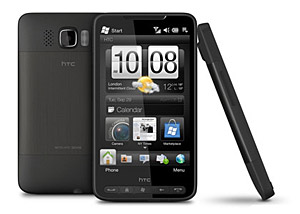 If you've been feeling a moistening of the mouth at the merest mention of the luxurious spec sheet of the new HTC HD2, and have felt your wallet twitching each time you catch a glimpse of its mahoosive 480 X 800 WVGA screen, then be sure to check out techradar's comprehensive review.
Sporting a sumptuous set of specs, a slim, no-nonsense design sprinkled with HTC's seductive Sense UI, this truly is the phone that has everything, but does it deliver in the real world?
The gang at techradar loved the HD2's slick interface and ability to turn it into a Wi-Fi router on command, and the love kept on flowing as they described how, "the HTC HD2 smashes past the iPhone in terms of raw processing speed and the ability to handle Flash video."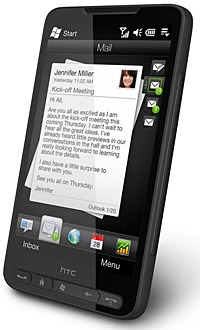 However, the downside came with the lurking behemoth of the lumbering Windows Mobile OS, the chunky proportions, lack of dedicated camera button (and average image quality) and under populated Windows Marketplace.
Here's how they wrapped up their review:
We so desperately want to give the phone 4.5 stars to rank it alongside the likes of the Hero and the iPhone 3GS, but it just falls short.

If Microsoft sorts out its Marketplace with a few more (and cheaper) apps, as well as a couple of firmware tweaks, this could easily be the phone of the year, even at this late stage.

But until then it will have to be content with being the best 'business device' on the market by a country mile.
HTC HD2 full specs:
CPU Processing Speed: 1GHz Snapdragon processor
Power & Battery
Battery type: Rechargeable Lithium-ion battery
Capacity: 1230 mAh
Talk time:
* WCDMA: Up to 320 mins
* GSM: Up to 380 mins
Standby time: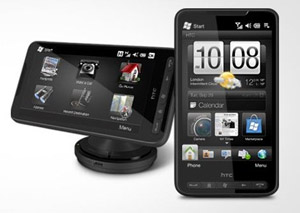 * WCDMA: Up to 390 hours
* GSM: Up to 490 hours
Video playback Up to 8 hours
Audio playback: Up to 12 hours
Camera*
5 megapixel color camera
* Auto focus
* Dual LED flashlight
Connectors
* 3.5 mm stereo audio jack
* Standard Micro-USB
(5-pin micro-USB 2.0)
Sensors
* G-Sensor
* Proximity sensor
* Ambient light sensor
Home Screen
Home, People, Messages, Mail, Internet, Calendar, Stocks, Photos & Videos, Music, Weather, Footprints, Twitter, Settings
Social Networking
* Facebook integration
* Sharing photos on Facebook and Twitter
* Sharing videos on YouTube
* HTC Peep™ for twittering
Capacitive touch screen
Resolution: 480 X 800 WVGA
Operating System
Windows Mobile® 6.5 Professional
Storage
* ROM: 512 MB
* RAM: 448 MB
* Expansion slot: microSD™ memory card (SD 2.0 compatible)
Network Bands
Europe: Network Bands
* HSPA/WCDMA: 900/2100 MHz
* GSM: 850/950/1800/1900 MHz
Asia Pacific:
* HSPA/WCDMA: 900/2100 MHz
* GSM: 850/950/1800/1900 MHz
Internet
* Browser: Opera Mobile
* 3G:
Up to 7.2 Mbps download speed
Up to 2 Mbps upload speed
* GPRS: Up to 114 kbps download speed
* EDGE: Up to 560 kbps download speed
* Wi-Fi®: IEEE 802.11 b/g
Tethering
* Internet Sharing through USB or Bluetooth
* Wi-Fi Router
Bluetooth
* Bluetooth 2.1 with Enhanced Data Rate
* Supported profiles: A2DP, AVRCP, BIP, BPP, DUN, FTP, GAP, GOEP, HFP, HID, HSP, OPP, PAN, PBAP, SAP, SPP
Multimedia
* Windows Media® Player
* Albums
* Pictures & Videos
* FM Radio
* Audio supported formats:
.aac, .amr, .m4a, .mid, .mp3, .mp4, .qcp, .wav, .wma
* Video supported formats:
.wmv, .asf, .mp4, .3gp, .3g2, .m4v, .avi
Location
* Internal GPS antenna
* HTC Footprints™
* Digital Compass
Recommended Windows System Requirements
* Windows XP or Windows Vista®
* Microsoft® ActiveSync® 4.5 for Windows XP
* Microsoft® Windows Mobile Device Center 6.1
for Windows Vista