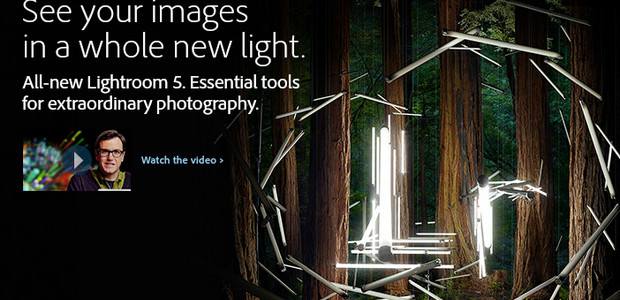 Adobe has released Lightroom 5 for MacOS and Windows, which it claims will wow purchasers with its "critical photo editing capabilities" and "groundbreaking workflows."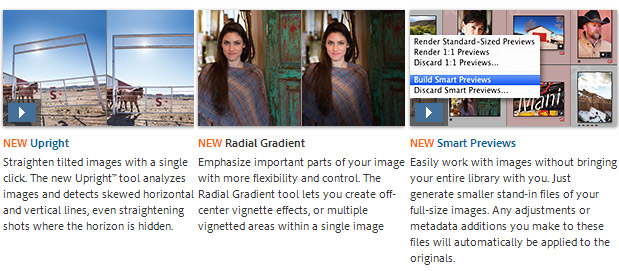 We're not entirely sure what a 'groundbreaking workflow' is – maybe it's something that Alan Titchmarsh knows about – but we can say that Lightroom is a ruddy good program for photographers needing to edit and catalogue their work.
Available as an individual licence or as part of Adobe Creative Cloud, there's not an awful lot here to justify the upgrade, with version 5 introducing an Advanced Healing Brush, an interesting looking new Upright tool and Radial Gradients, which lets you apply off-centre and multiple vignettes to a single image.
A new video slideshow feature enables customers to lob still images, video clips and music together into a creative HD slideshow that can be viewed on almost any device, while the Book module has also been updated.
Smart Previews lets photographers make edits to their images offline, without bringing their entire library of original files with them. Any offline edits will be applied to the original images when they are reconnected.
The only thing that's really grabbing us there is the Upright tool, so we'll be missing out on this upgrade and keeping the money for beer.
The standalone software is available at Adobe.com and participating retailers for $149 or $79/£57.64  upgrade.
Adobe Press Release

Adobe Photoshop Lightroom 5 Now Available

Powerful New Features Advance Photography Workflows

SAN JOSE, Calif.–(BUSINESS WIRE)–Adobe Systems Incorporated (Nasdaq:ADBE) today announced the availability of Adobe® Photoshop® Lightroom® 5 for Mac OS® and Windows®. The product is available as an individual license or as part of Adobe Creative Cloud™. Designed for both photography enthusiasts and professionals alike, Lightroom 5 adds critical photo editing capabilities and creates groundbreaking workflows. Lightroom 5 was initially released as a free, public beta in April 2013.

"Lightroom was originally conceived through the requests of Adobe customers, and this feedback continues to drive each new iteration," said Winston Hendrickson, vice president of products, Creative Media Solutions, Adobe. "As the digital photography landscape advances and evolves, Lightroom is the best solution for photographers and passionate hobbyists who want to get the most out of their digital images."

New Features in Lightroom 5

Lightroom 5 adds powerful new editing tools to help photographers create better images faster. The Advanced Healing Brush enables customers to fix irregularly shaped imperfections such as dust spots, splotches, and other distractions with the precision and flexibility of a fine brush. The Upright tool analyzes each image to automatically straighten objects such as buildings and level horizons. Radial Gradients offer customers the control to make photo subjects stand out by applying off-center and multiple vignettes in a single image.

Lightroom 5 also brings extended sharing and publishing capabilities. New video slideshows enable customers to combine still images, video clips and music in a creative HD slideshow that can be viewed on almost any device. Updates to the Book module bring the ability to create, personalize and print elegant photo books from a variety of tailored, easy-to-use templates, as well as create customer-specific templates.

Smart Previews, new in Lightroom 5, enable photographers to make edits to their images offline, without bringing their entire library of original files with them. Edits and metadata changes to Smart Preview files are automatically applied to the original images when they are reconnected.

Pricing and Availability

Adobe Photoshop Lightroom 5 is available now for immediate download for Adobe Creative Cloud members. Standalone software is available at Adobe.com and participating retailers for US$149 or US$79 for upgrades. For more detailed information about product features, upgrade policies, pricing and language versions, please visit http://www.adobe.com/go/lightroom.

System requirements

Windows

Intel® Pentium® 4 or AMD Athlon® 64 processor*
DirectX 10–capable or later graphics card
Microsoft® Windows® 7 with Service Pack 1 or Windows 8
2GB of RAM (4GB recommended)
2GB of available hard-disk space
1024×768 display
DVD-ROM drive required if purchasing Adobe® Photoshop® Lightroom® retail boxed version
Internet connection required for Internet-based services

Mac OS

Multicore Intel processor with 64-bit support
Mac OS X v10.6.8 or v10.7. Adobe Creative Suite 5, CS5.5, and CS6 applications support Mac OS X Mountain Lion (v10.8) when installed on Intel based systems.*
2GB of RAM
1GB of available hard-disk space
1024×768 display
DVD-ROM drive
Internet connection required for Internet-based services*