We've lost count of the amount of weather apps that we've installed over the years, and although the fantastic Palmary Weather PRO remains our #1 fully fledged weather app, the widget wasn't quite getting our meteorological muse going.
After trawling through the depths of the Android Market and rejecting one hopeful contender after another, we finally clapped our eyes on what has emerged as as our new favourite weather widget: the Aix Weather Widget.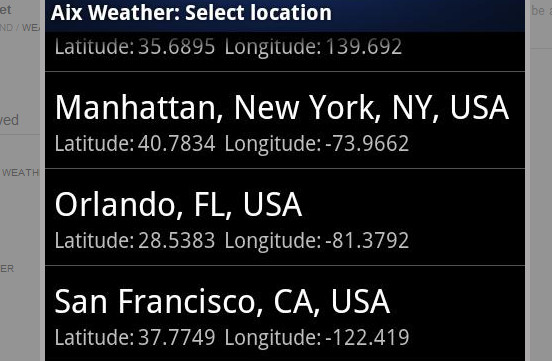 Wonderfully minimalist and taking up just 4×1 of precious homescreen space, the Aix Weather Widget packs in a ton of useful info, presented in a beautifully elegant interface.
Add individual widgets
Users can select their home location, and add as many extra locations which can then be displayed in individual widgets on the home screen.
There's also options to only update the data when connected via wi-fi, change the update rate and set the app to only update when the phone is awake.
24 hours at a glance
Once installed, the forecast for the next 24 hours is presented via a clever temperature graph which dynamic scales to suit the extremes of temperature, with icons illustrating the weather conditions (cloudy, sunny, overcast etc) positioned every two hours.
Rainfall is shown at the bottom of the graph with each grid cell representing 1 mm, or 0.05 inches of rain. Solid blue bars display the minimum amount of forecasted rainfall with the patterned bars indicating the maximum.

MSLP, hPA and RH. You what?
MSLP values in hPa are listed above the graph (we've no idea what they are either but it's explained here), along with the relative humidity (RH) reading. We weren't exactly sure what that meant either, so looked it up here and came back not entirely wiser.
Accurate data
The author informs us that the weather data is taken from Norwegian Meteorological Institute but adds, "however, it is made to, and should, work in any part of the world."
We found the weather info to be as accurate as we might expect, although we'd love to see a 2 day/7 day version.
Conclusion
Beautifully designed in an easy to read and attractive interface, this is certainly the best Android weather widget we've come across to date, and priced at free it's an irresistible download.We love it.
Ratings:
Ease of use: 



Features: 


Value for money: 


Overall: 


[Download the app here], [more about the app here] and follow the [author's discussion about the app here].