It's been a while coming, but Orange and Barclaycard have now launched their combined NFC mobile payments system called Quick Tap, which lets users quickly buy stuff from stores just by slapping down their phones.
The first of its kind in the UK, the new system lets users 'carry cash on their phones' and quickly pay for small items with a value of up to £15 just by tapping their phones next to a contactless reader.
Billed as, "No cards, no cash. Just tap and you've paid," there's now readers installed in over 50,000 stores nationwide, including cafés such as Pret A Manger, Eat and Subway.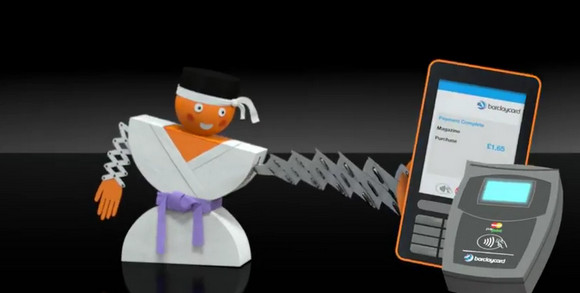 We're loving the idea of being able to speedily snap up a sarnie, although there's is a sizeable snag: the service only works with dedicated Quick Tap-enabled handsets.
At the moment there's just the one available, the Samsung Tocco Lite on Orange, although Orange says there's more phones on the way.
You also need to have either a Barclaycard, Barclays debit card or Orange credit card in order to get in on the Quick Tap action.
Money can be added to your Quick Tap phone from a Barclaycard, Barclays debit card or Orange credit card and as you purchase your paninis, the amount is taken off the balance.
Security
For those fearful that anyone stealing your phone will be able to embark on a roll buying rampage, Orange and Barclaycard say they have thoroughly tested the system:
"Mobile Contactless Payments from Orange and Barclaycard have been developed and rigorously tested to ensure customers' transactions and personal data will be protected and secure, with users having the option to enter a PIN on their handset before each transaction providing an additional layer of security."
Quick Tap transactions will also be covered by the same 100% fraud guarantee as standard Barclays and Barclaycard transactions nationwide, and if a phone is reported lost or stolen, any transactions made with it won't be fulfilled.