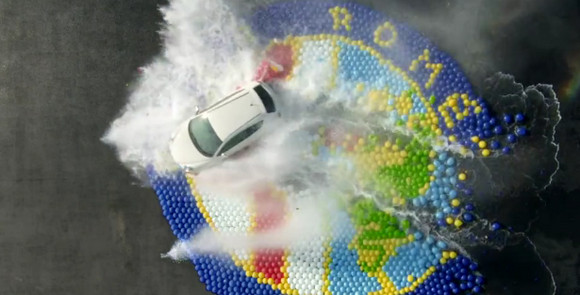 If you're in the market for a car with above average water balloon bursting capabilities, then it seems Alfa Romeo have just the car for you.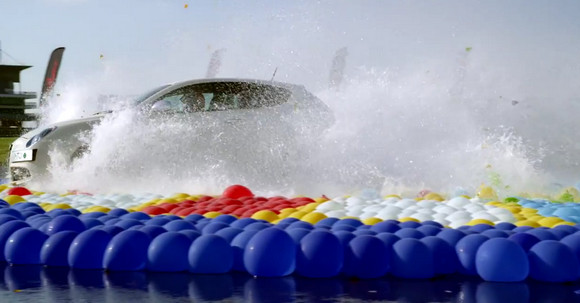 The spectacularly pointless stunt sees the sporty hatchback crashing through no less than  2,738 water balloons – and that's a record! – accompanied by a suitably  triumphant rock track and de rigueur slo-mo footage.
Yeah! Squash those balloons, Alfa Romeo! Kill them in the face!
We're pretty sure that the "most amount of water balloons burst by a car" world record didn't exist before, and we're not entirely sure what the video is supposed to prove.
We are, however, rather disappointed that Guinness are letting their record books be manipulated by PR agencies seeking cheap publicity for their clients.
That said, there is still something moderately satisfying about seeing the balloons being burst.
Here's the back-slapping press release. If you're interested, like.
BURSTING ONTO THE SCENE: LATEST ALFA MiTo QUADRIFOGLIO VERDE SETS NEW WORLD RECORD

During the last 101 years, Alfa Romeo has been at the forefront of automotive style, innovation and performance. It was with these key values in mind that the marque created its biggest and most adventurous social media campaign to date – The MiTo Aquabatic Challenge – which saw the latest hot hatch Alfa MiTo become a world record holder.

To celebrate the launch of the new Alfa MiTo Quadrifoglio Verde – a 170 bhp MultiAir engined, ultra-sporty hatchback, fitted with carbon fibre backed Alcantara® Sabelt® bucket seats – Alfa Romeo constructed its iconic serpent and cross logo using over 2500 balloons for a unique social media competition.

In a test of the car's handling, and the skill of its professional stunt driver – Terry Grant, the range-topping model smashed spectacularly through the iconic badge to set a brand new world record for the most amount of water balloons burst by a car.

The feat, which now stands at 2,738 balloons, is also the 20th record held by seasoned record breaker and Alfa Romeo driver Terry Grant.

Captured using the latest pre-production Red Epic slow-mo camera, the stunt can be viewed in all its glory at www.youtube.com/alfaromeouk as the final instalment in the Aquabatic Challenge digital campaign.

Fans of Alfa Romeo UK Facebook page were invited to take control of one of the grid positions, in the hope that one of the four surviving balloons would end up in their possession and they would win an exclusive track day at Goodwood Motor Circuit.

Damien Dally, Head of Brand, Alfa Romeo UK says: "Engaging with our diverse fan base and bringing in a new generation of Alfisti through interactive campaigns like this is a key ingredient to our continued growth.

"Above all, we've been able to creatively demonstrate the nimbleness and performance ability of the MiTo Quadrifoglio Verde…and, have great fun doing so."

The Alfa MiTo Quadrifoglio Verde is the latest and most sporty model to join the Alfa MiTo range, topping the selection on offer with its Alfa pedigree which guarantees speed, agility and power; all for £18,755 OTR.

For more information on the Alfa Romeo range visit www.alfaromeo.co.uk or to 'like' Alfa Romeo on Facebook visit www.facebook.com/alfaromeouk.