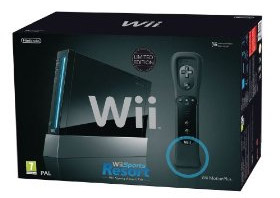 If the  all-white Wii  wasn't doing it for you, then be prepared to welcome the meaner, all-black Nintendo Wii bundle into your lives.
The none-more-black gaming console is currently available on pre-order on Amazon UK, with the online retailer lobbing quite a few quid off the asking price.

Amazon have laughed in the face of the £179.99 recommended retail price, and slashed eight per cent off to mercilessly slap the price down to £164.99 – and for that you get the Nintendo Wii Console with Wii Sports Resort and Motion Plus Controller.
We've been busying ourselves with the Wii Sports Resort and Motion Plus Controller combo recently and have been loving it – especially the canoeing game which provides a truly challenging feat of coordination after six pints of Harveys Sussex Ale.
If you're still mad keen for the original all-white number, then Amazon are knocking out the same deal in white for a pricier £179.99, but try to make up for the increase in price by drop-kicking in two free games.
Nintendo Wii Console (Black) with Wii Sports Resort and Motion Plus Controller (Wii)
Nintendo Wii Console with Wii Sports + Wii Sports Resort and Motion Plus Controller (Wii)