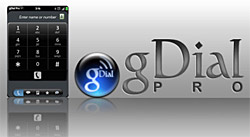 Apple iPhone users will have to jog on for the time being as the titanic, blame-shunting battle between ATT, Apple and Google rages, but US users keen to lap up the innovative Google Voice service are free to access it on their Palm Pre and Pixi handsets, courtesy of the free gDial Pro app.
The app does pretty much all you'd expect it to (see video below), and lets users have one unified number for all their telephonic and SMS needs.
GDialPro lets users manage voice calls and SMS, choose which numbers Google Voice redirects to, and also make calls from the Pre itself.
The app isn't as tightly integrated as Google's official app for the Android platform, but until that gets released for the Palm, this is a pretty nifty way for American users to scoop up some Google Voice goodness.
No fun in the UK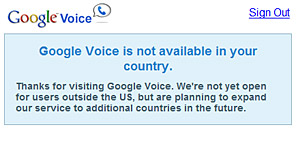 Sadly, the screengrab to the right is what UK users get when we try to access the service.
There's been vague rumours of Google Voice coming to the UK by the end of the year but we won't be holding our breath on that one.
Meanwhile you can follow what you're missing out on on twitter here.
Google Voice? You what?
If you're still not sure how this Google Voice malarkey works, here's the company's summary of the two ways to use it:
Use Google Voice with your existing number:
Google voicemail:

voicemail like email

Voicemail transcription:

read what your voicemail says

Custom greetings:

vary voicemail greetings by caller

International calling:

low cost calls to the world

Notifications:

read voicemail messages via email or SMS

Share voicemails:

forward, embed, or download voicemails
Add a Google number to get these additional features:
One number:

a single phone number that rings all your phones

Free SMS:

send, receive & store text messages online

Block calls:

send unwanted callers straight to voicemail

Record calls:

record phone calls and store them online

Conference calls:

join several people into a single call

Screen callers:

hear who is calling before you pick up