Traditionalists will facepalm at the news of another Americanism being imported into the UK, but bargain hunters will be a-whooping at Amazon UK's announcement that they will be offering Black Friday deals every year.
Black… what?
What is this Black Friday you may ask? Well, it's a date that has absolutely no significance to us Brits, being the day that follows Thanksgiving, a US holiday that has long since been disconnected from its roots as a religious harvest festival.
With Thanksgiving being the fourth Thursday of November, this year's Black Friday will fall on November 26, although Amazon have managed to stretch it out into a whole week.
Consumerist frenzy
In the States, Black Friday translates into a consumer shopping frenzy, with retailers offering substantial one-day discounts as an incentive to kick-start the Christmas shopping season
Here's Amazon's announcement:
…this year Black Friday will be November 26.

It traditionally marks the beginning of Christmas shopping, with shoppers grabbing some great prices on a huge range of products. Amazon.com offers some unbelievable deals throughout Thanksgiving week and on Black Friday, and this year, we wanted to do the same. We're bringing Black Friday Deals Week to the Amazon.co.uk website, so our customers will be able to take advantage of some unbelievable deals throughout the week.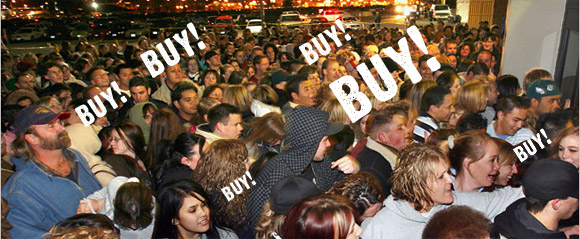 Although it sounds more like a goth convention to us, the name "Black Friday" is said to have originated in Philadelphia, where it was coined by the local feds to describe the massive traffic jams and over-crowded sidewalks that headed to the downstown stores after Thanksgiving.