We've documented our long and depressing history of the major problems we've been suffering with out Humax PVR-9200T PVR, but with the player becoming even more unreliable and no fix from Humax in sight, we suspect a hammer/PVR interface may be happening soon.
The problems are numerous- and shared by many readers – but here's the some of most annoying:
The PVR completely freezes up, forcing us to physically turn it off and on again at the mains – sometimes several times before the thing works again.
The remote control can be really slow to respond, so pressing 'play' when fast forwarding to the start of a movie has no effect until the ruddy film is half way through.
It gets completely stuck in rewind or fast forward modes, forcing you to turn it off at the mains to stop it
The fan stays on at full blast even when the machine is turned off
Programmed shows don't record at all or are listed with a red marker and the baffling message: "this program is not recorded due to conflict with other reservations – do you want to delete?"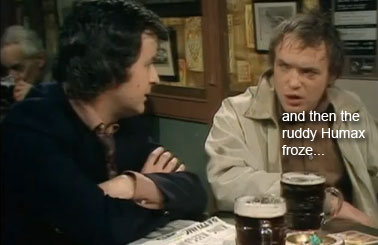 Goals missed, Humax shouted at
We've lost count of the amount of times we've come home from the pub ready to watch some top notch Cardiff City-related action only to find that the useless PVR-9200T has let us down once again.
Gibberish
We've tried updating the software from the PVR's control panel – that only brings up a confidence-sapping 'Now searching a new software' gibberish message – as well as every bodge and fix we could find on the web, all to no avail.
MC Hammer time?
Seeing as it's now well out of warranty and Humax seem thoroughly disinterested in answering our emails, the thought of attacking it with a large, heavy hammer is becoming more appealing every day.
Anyone else feeling equally frustrated?