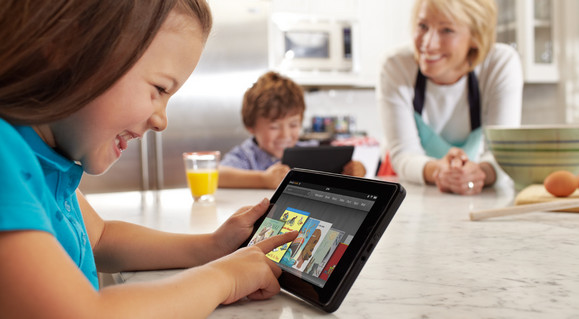 Launching in the US on Saturday – but with no UK release scheduled – early reviews of Amazon's ground breaking new $200 Kindle Fire tablet have been coming in, with most critics impressed at the abilities of the budget Android-powered package.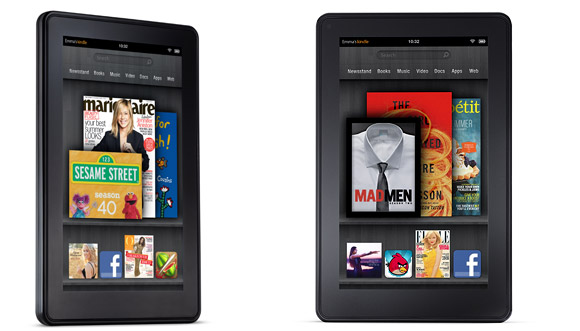 The price is critical when considering this product – at $200 it massively undercuts the iPad, and looks to do most things that Apple's high-end product can do, as MSNBC observed, "The Kindle Fire can handle about 80 per cent of what I want to do on an iPad, for 40 per cent of the price.  And much of what's missing won't be missing for long"
The review – entitled "Kindle Fire review: Yes, it's that good" – found that reading is easier than on an iPad, with the screen quality every bit as good.
Gizmodo were also seemed pretty keen in their review – 'The iPad Finally Has Serious Competition' – concluding:
It's not as powerful or capable as an iPad, but it's also a sliver of the price—and that $200 will let you jack into the Prime catalog (and the rest of your media collection) easily and comfortably. Simply, the Fire is a wonderful compliment to Amazon's digital abundance. It's a terrific, compact little friend, and — is this even saying anything? — the best Android tablet to date.
CNET described the Kindle Fire as an 'important milestone in the history of tablets,' adding:
While the industry has been competing with Apple for the claim of the fastest, thinnest, or most feature-packed tablet, Amazon started in on its own slow race to make the first "good enough" tablet at a game-changing price. If you remember what Netbooks did to the laptop industry, this probably feels like deja vu.
The love flowed freely at Engadget too, who said:
The Kindle Fire is great value and perhaps the best, tightest integration of digital content acquisition into a mobile device that we've yet seen.

Instead of having a standalone shopping app the entire tablet is a store — a 7-inch window sold at a cut-rate price through which users can look onto a sea of premium content. It isn't a perfect experience, but if nothing else it's a promising look into the future of retail commerce.
Fortune were also forthcoming in their praise for the 7″ tablet:
The Kindle Fire isn't a revolutionary device, but it is Amazon's most important product ever. [It] takes Amazon's wildly popular services and presents them in a solid piece of hardware with a responsive, easy-to-understand interface that works.

It doesn't have the iPad's extra layer of polish and sheen, but with the Amazon brand, a wide ecosystem of services at its disposal, and that $199 price point, it doesn't really need it. In that sense, Apple's tablet just met its first real competitor.
Finally, new tech site The Verge was also feeling positive about the Fire:
There's no question that the Fire is a really terrific tablet for its price. The amount of content you have access to — and the ease of getting to that content — is notable to say the least.

The device is decently designed, and the software — while lacking some polish — is still excellent compared to pretty much anything in this range (and that includes the Nook Color).

It's a well thought out tablet that can only get better as the company refines the software. It's not perfect, but it's a great start, and at $200, that may be all Amazon needs this holiday shopping season.
Oy! Amazon!
Much as we're happy that Amazon's new baby is looking to be a game-changing product, all these glowing reviews are only adding to our frustration.
When are us Brits going to get a bit of Fire action, Amazon?