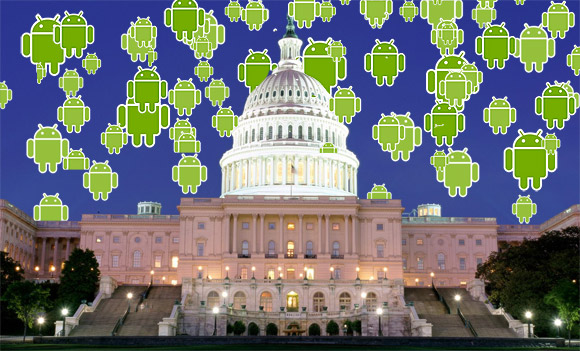 Google's Android mobile OS continues to outrun the RIM/Blackberry platform as the number one smartphone OS in the U.S., according to new data from ComScore.
Using figures tracking the first quarter of 2011, ComScore found that Android's U.S. market share had risen to 34.7 per cent, a whole six percentage points up from the previous quarter (Q4, 2010).
While Android's market share was accelerating smartly upwards, RIM's share collapsed to 27.1 per cent, a sizeable 4.5 point drop from the 31.6 per cent share held in the previous quarter.
In third place and registering only the most modest of rises was Apple's iOS, with its share moving up by half a percentage point in the first quarter to 25.5 per cent.
Spluttering a long way behind with just 7.5 per cent share was Microsoft's Windows Phone (down 0.9 per cent from the previous quarter), while the crestfallen smartphone kings Palm languished in fifth place with a mere 2.8 per cent share, also down 0.9 per cent from Q4 2010.
Overall, ComScore estimate that 72.5 million people in the U.S. owned smartphones during the first quarter, up 15 per cent from the previous quarter.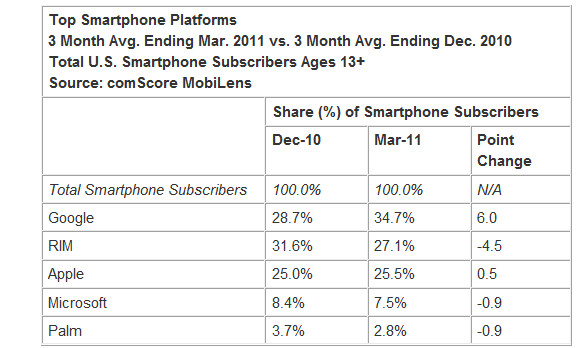 Samsung rules the US
Combining the sales of smartphone and feature phone manufacturers sees Samsung emerging as the top dawg with a 24.5 per cent share of all U.S. mobile customers.
LG bagged second place with a 20.9 per cent share, followed by Motorola with 15.8 per cent, RIM with an 8.4 per cent share and Apple increasing their share by 1.1 points to snaffle 7.9 per cent of the market.
[Via]