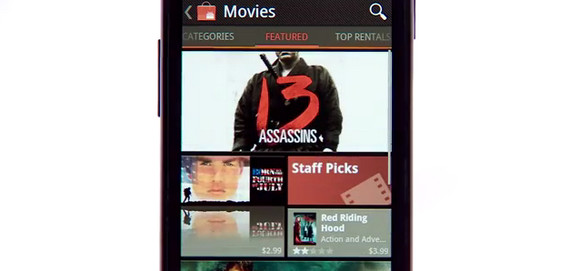 Google has put the heat of its rival Apple with the launch of a new Android Market which now makes it possible for users  to buy books and rent movies.
The new version of Android Market lets US users rent thousands of movies, starting at $1.99, from within the app, as the Google Dev Blog explains.
With the Videos app, available in Android Market, there's no more waiting for downloads, syncing, or worrying about storage space. Simply sign into Android Market with your Google account, and you can rent movies from anywhere – the web, or your Android phone or tablet – and start watching instantly. You can also download movies to your device so they're available for viewing when you don't have an internet connection.

Also in the U.S., you can now purchase books from Android Market on your phone. Like movie rentals, books are linked to your Google account, so they're instantly available across all of your devices – computer, phone, or tablet – without the need for wires or downloads.
The design of the app has enjoyed a Windows Phone 7-esque jig,with Google adding space to feature some of the most interesting content of the week on the home page, backed by top charts, staff picks and Editors' Choice apps.
Google say that the new Android Market will be rolling out in the coming weeks to Android 2.2 and higher phones around the world (we haven't seen it yet) with only U.S. users currently able to download the Videos app, rent movies, or buy books on the updated app.