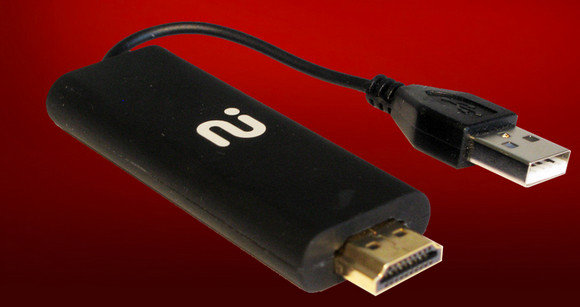 Confidently-named US tech firm Always Innovating have announced their HDMI Dongle, a USB stick-sized gizmo that can swiftly transform your boring old dumb TV into a swishy Android 4.0 Ice Cream Sandwich-powered device capable of running GoogleTV.
The wee gadget can be plugged into any HDMI port on your gogglebox and packs a Texas Instruments Cortex-A9 OMAP 4 CPU, running from 1GHz to 1.8GHz, depending of the configuration.
There's 1GB of RAM onboard and a micro SD card for local storage, with Wi-Fi and Bluetooth modules enabling further connectivity.
Capable of streaming and decoding 1080p H.264 video video, the device is compatible with services like Netflix, Hulu and Amazon video-on-demand, and comes with a  nine button remote control for navigation, backed by voice recognition for text input.

There's also an accelerometer and NFC chip built into the remote, although it has to be said that the one pictured on their website looks like something made on Blue Peter with yoghurt pots  and sticky-back plastic .
You may well be now thinking, "WANT! Where do I buy this thing?" – but you're going to have to hold your horses as there's something of a catch.
Always Innovating have said that they don't intend to manufacture the HDMI Dongle themselves, but instead want to license it out to others, so it may be some time before we can start smartening up our stoopid TVs with this gadget.
If it ever materialises, of course.