Inviting you to let your fingers do the clicking, scrolling and swiping is Apple's new Magic Trackpad which has just been officially announced after months of leaks.

Priced at $69 and sporting the same sculpted aluminium design as the Apple Wireless Keyboard, the trackpad is billed as, "the multi-touch trackpad for your desktop," and uses the same touch technology that "you love" on the MacBook Pros.
Gestures galore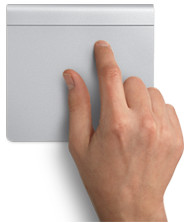 The trackpad supports a full set of gestures including two-finger scrolling, pinching to zoom, rotating with your fingertips, three-finger swiping, and activating Exposé or switching between applications with four fingers:
Click
Press down anywhere on the Multi-Touch surface to physically click or double-click. Or, with "Tap to Click" enabled in System Preferences, simply tap or double-tap the surface.
Scroll
Brush two fingers along the Multi-Touch surface to scroll in any direction — vertically, horizontally, or diagonally.
Swipe
Using three fingers, brush left and right along the Multi-Touch surface to page forward and back.
Rotate
With your thumb and index finger on the Multi-Touch surface, twist clockwise or counterclockwise to rotate an image.
Bluetooth powered
Magic Trackpad works using Bluetooth technology, and once paired with a Bluetooth-enabled Mac, should support connections up to 33 feet away, with a control panel letting you tweak your preferences.
Here's what you need:
Bluetooth-enabled Mac computer
Two AA batteries (included)
Mac OS X Snow Leopard v10.6.4 and latest software update