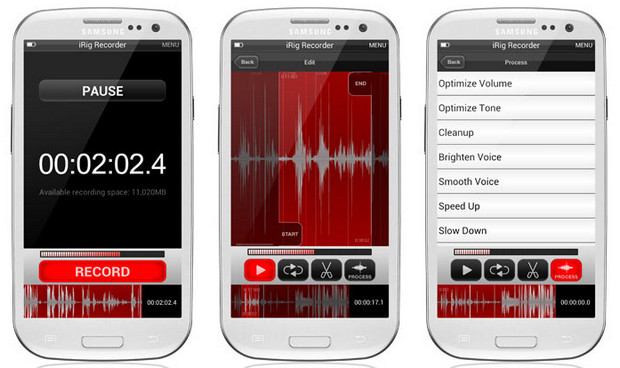 When it comes to high quality audio recording, Android has lagged miles behind the apps and accessories available on Apple's iOS, but that looks set to start changing with the release of IK Multimedia's new iRig Recorder for Android app.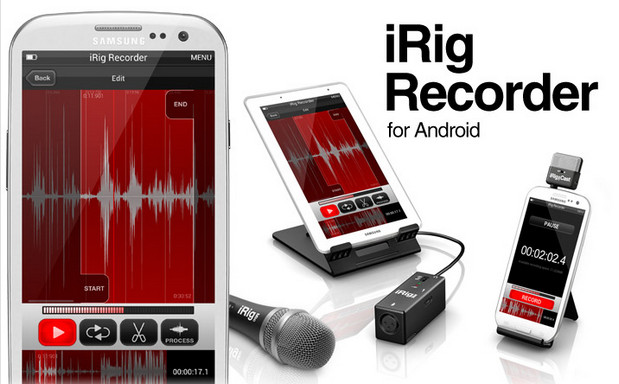 Scheduled for release at the end of the month, the free/paid app offers sophisticated audio recording and editing abilities and lets users hook up their Android devices to compatible IK accessories like the iRig MIC, iRig MIC Cast and iRig PRE, as well as other compatible input devices.
Audio files can be stored by date and have geolocation information added, with onboard tools letting users trim and crop recordings via the waveform editor.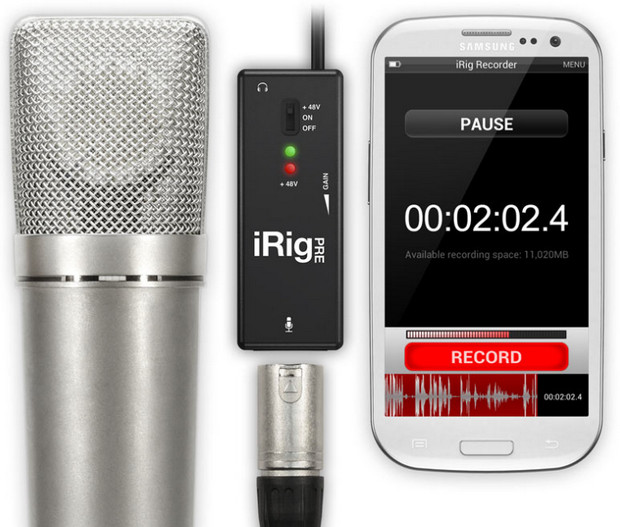 Other in-app purchase tools let users perform functions like automatically adjusting and normalising volume levels, removing background noise, and speeding up or slowing down recordings.
Although the software looks impressive, the app really comes into its own when it's used with hardware accessories like the €29.99 iRig MIC Cast  (pictured below) or iRig's 3.5mm-to-XLR conversion dongle ( €29.99), allowing a high quality microphone to be plugged in.
Files can be exported  in the compressed OGG format, from 192 to 64 kbps, or saved as full-resolution, 16-bit, 44.1 kHz WAV files.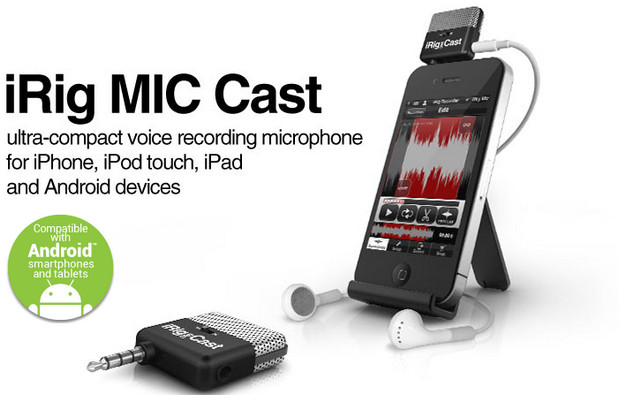 Here's the stand out features of the app:
No set up required – just launch the app and hit record
Auto record feature – the recording immediately starts as soon as the app is launched to catch the moment
No recording time limit – the recording time is determined by the available space on your device
Recordings are automatically grouped by recording date and tagged with geo-location info for quick locating
Extremely easy to use – simple editing lets you cut and crop your recordings
Non-destructive editing – the original recording file is always kept as a backup
Export your files in OGG compressed format and WAV uncompressed format
Files can be sent via E-Mail, FTP upload, Bluetooth, copying from the phone via USB cables or from SD card or shared and stored via apps installed on the device
High-quality audio processors automatically optimize levels and tone
Free, paid and in-app purchases
The free iRig Recorder app offers basic recording and volume optimising tools, with the waveform editor and additional effects processors available via in-app purchases.
The paid iRig Recorder ($4.99/€3.99)comes with the waveform editor and the volume optimizer, with the complete effects bundle (see list below) offered as an in-app purchase of $4.99/€3.99.
We're really looking forward to trying out this new app and, in particular, seeing what kind of audio quality we can get out of Android devices using some of the add-on hardware. Expect a review soon!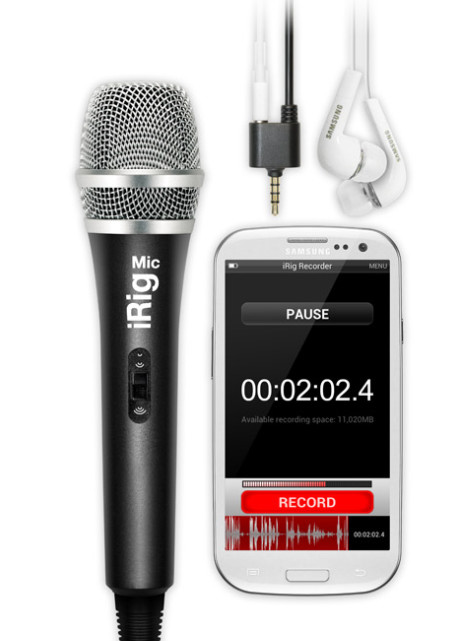 Available Automatic Audio Processors:
Optimize Volume: automatically adjusts for optimal volume
Optimize Tone: automatically adjusts for optimal equalization
Cleanup: automatically cleans up the background noise in recordings
Brighten Voice: automatically increases clarity of speech and vocals
Smooth Voice: automatically smooths harsh or overly bright vocals
Speed Up: decreases the duration of the recording without altering its pitch
Slow Down: increases the duration of the recording without altering its pitch
Pitch Shift: raises or lowers the pitch of the recording without changing duration
Pitch and time-based effects let you change the speed of your recordings (without affecting pitch) to adapt your audio content to other media such as video, and change the pitch of your recordings without affecting the duration