Designed for use with Apple iPhones and iPods, Audio-Technica's mid-priced ATH-CK400i  in-ear headphones come with a tiny controller letting users adjust volume, answer calls, select music, and record audio.
In line remote
The remote control sits inline with the cable, just underneath the right ear bud, and although it felt a tad flimsy to the touch, it proved fairly responsive to the touch.
Although it's targeted at Apple products, the controller will also play/pause/FF and take/end calls on some other handsets (in our case a HTC Desire), although we couldn't get the volume keys to walk.
If you like to make a bit of a splash with your earphones, the ATH-CK400is are also available in red, blue, green, pink and white as well as the regular black.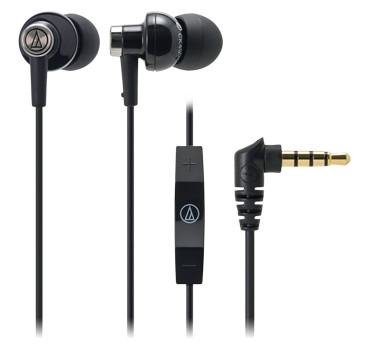 Loose lug'oles
As is the norm these days, the Audio-Technicas came with a selection of different sized rubbery ear buds.
After trying all three sizes we still couldn't find a pair that fitted comfortably – something we're never encountered before in all the headphones we've tested.
The loose fit conspired with the stiff cable to create a less than stellar experience,  and we often found ourselves yanking the ear bud out when we tried to skip tracks.
Sound quality
Perhaps exasperated by the poor fit,  the sound was hugely disappointing, especially after we were so pleasantly surprised by the company's ATH-SJ5 DJ-style headphones.
The bass was far too light for our tastes, the treble a tad harsh and the mid range didn't inspire much either – these were a pair of headphones that definitely weren't punching above their weight in the sonic stakes.
It has to be said that most of these shortcomings were down to our inability to find a comfortable fit, so it's possible that your experience may well prove quite different to ours.
Either way, we strongly suggest trying them out before slamming down your £35, but from our testing, we can't really recommend them.
Review scores
Looks: 75%
Build: 60%
Sound quality: 55%
Value for money: 65%
Overall: 65%
Buy the ATH-CK400i earphones  on Amazon.