This is such a rare occurrence that eyebrows tend to raise whenever it happens, with a few alarmist explanations and daft conspiracy theories usually quickly lobbed in the mix via Twitter.
It's definitely down
Whenever we think a site is down the first place we go is the excellent 'Down For Everyone Or Is It Just Me?' website which checks the site for you and gives the straight dope on the site's status.

In this case, the message came through loud and clear: the BBC site is currently most definitely borked.
We'll update this article as soon as we find out what the chuffing heck is going on with the Beeb – we've checked their Breaking News Twitter feed and there's stil nowt on that.
And the rumours begin….
Update: 23:18 29/03/2011 – some VERY unconfirmed  Twitter sources are saying that that "Anonymous have taken down the BBC website in solidarity with the Black Bloc and UKUncut."
We'd take that with a ton of salt for the moment as we'd be very surprised that such a huge site could be completely taken down so swiftly.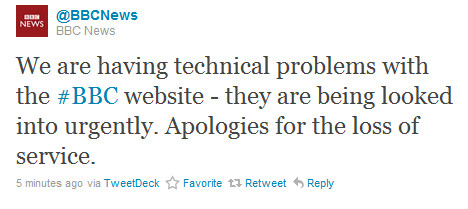 Twitter explodes!
Update 23:32 29/93/2011 – Over half an hour later and still all the BBC sites are down. BBC6 Radio has said that they are "having problems" but didn't go into detail.
Update 23:50 29/93/2011 – It's back!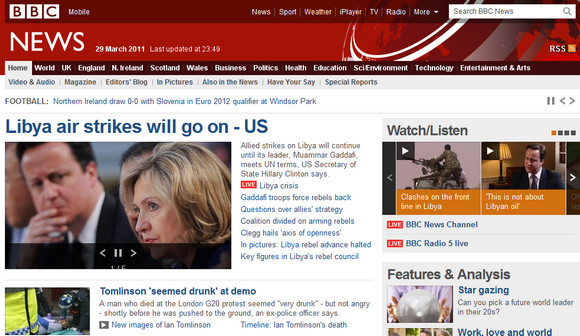 Huzzah – it's back online!
And now that everything OK in the BBC world again, it's worth reflecting on this Tweet from DickMandrake:
So the entire BBC website is offline – a glimpse of the future if the Murdochs and their pals, David Cameron & Jeremy Hunt, have their way
Chat about it
Join the discussion about the outage and recall the gnashing of teeth as folks battled to get their iPlayers working on our bulletin boards.